Welcome back blog followers! If you didn't see my blog post yesterday, my blog host company mistakenly destroyed my blog but over the past month it's been rebuilt as good as new! I didn't stop cooking over that black-out month however so I can't wait to catch you up on all the new recipes I tried…and loved…like this risotto recipe that's perfect for the early spring weather we're having here in southern Oregon.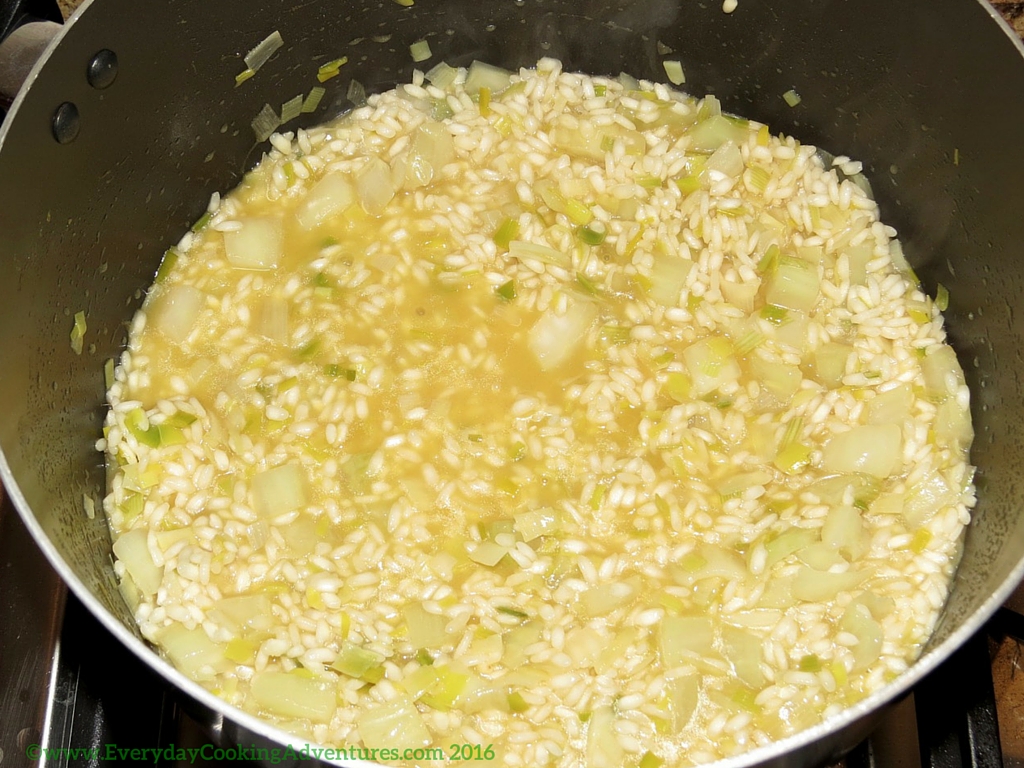 My parents came for their first visit since we moved to southern Oregon last month, and I knew that it would be fun to get in the kitchen with my mom, who was my chef inspiration, always making delicious meals for my dad and I and for dinner parties at our home over the years. So I chose a chef that we both admire, Ina Garten, for some recipes for our dinner for four. Risotto first began in Milan, Italy where slow-cooking began (and is still currently the head of the Slow Food Revolution movement) and the top three best rice varieties for risotto are apparently: Carnaroli, Vialone Nano, and Arborio.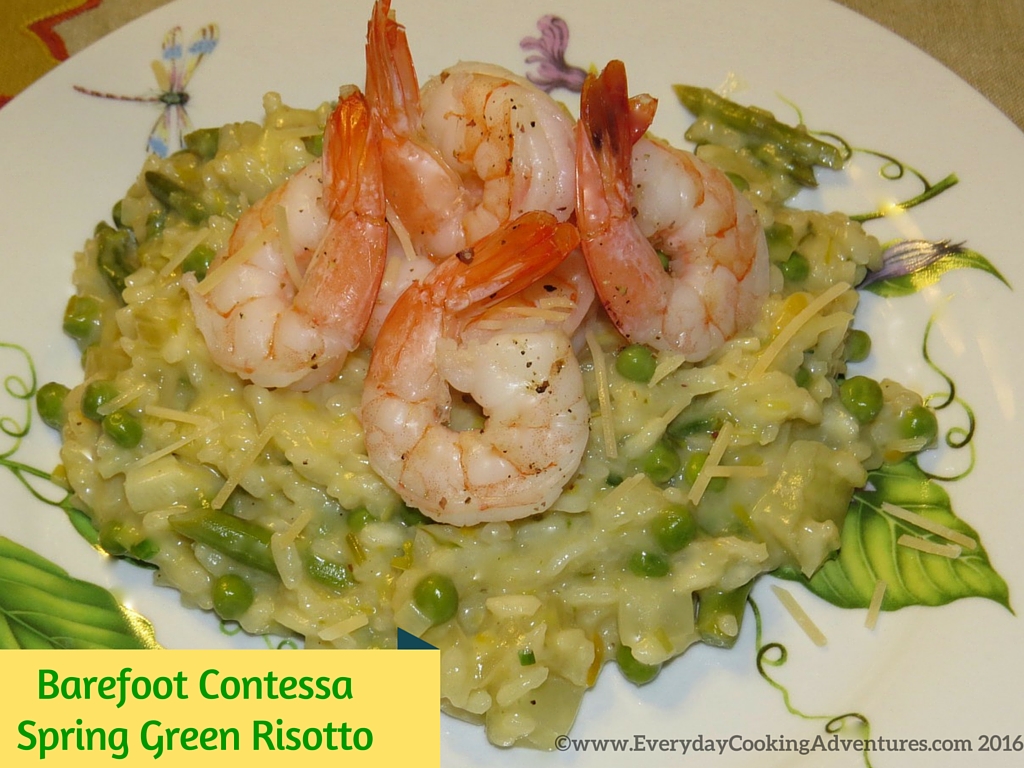 While the risotto took a lot of stirring, my mom was a great sous-chef and together we made this dish without a hitch. The risotto was so creamy and the asparagus was still slightly crisp, making every bite fun, cheesy and savory. I added the steamed shrimp on top and it was the perfect meal, especially with a side of Ina Garten's Ciabatta Garlic bread (Recipe to come tomorrow).
Spring Green Risotto
Recipe from: Ina Garten, Back to Basics, 2008
Total Time: 47 minutes
Prep Time: 20 minutes
Yield: 4 servings for dinner, 6 servings for appetizer
Ingredients
1 1/2 tablespoons good olive oil
1 1/2 tablespoons unsalted butter
3 cups chopped leeks, white and light green parts (2 leeks)
1 cup chopped fennel
1 1/2 cups Arborio rice
2/3 cup dry white wine
4 to 5 cups simmering chicken stock, preferably homemade
1 pound thin asparagus
10 ounces frozen peas, defrosted, or 1 1/2 cups shelled fresh peas
1 tablespoon freshly grated lemon zest (2 lemons)
Kosher salt and freshly ground black pepper
2 tablespoons freshly squeezed lemon juice
1/3 cup mascarpone cheese, preferably Italian
1/2 cup freshly grated Parmesan, plus extra for serving
3 tablespoons minced fresh chives, plus extra for serving
Directions
Heat the olive oil and butter in a medium saucepan over medium heat. Add the leeks and fennel and saute for 5 to 7 minutes, until tender.
Add the rice and stir for a minute to coat with the vegetables, oil, and butter. Add the white wine and simmer over low heat, stirring constantly, until most of the wine has been absorbed.
Add the chicken stock, 2 ladles at a time, stirring almost constantly and waiting for the stock to be absorbed before adding more. This process should take 25 to 30 minutes.
Meanwhile, cut the asparagus diagonally in 1 1/2- inch lengths and discard the tough ends. Blanch in boiling salted water for 4 to 5 minutes, until al dente. Drain and cool immediately in ice water. (If using fresh peas, blanch them in boiling water for a few minutes until the starchiness is gone.)
When the risotto has been cooking for 15 minutes, drain the asparagus and add it to the risotto with the peas, lemon zest, 2 teaspoons salt, and 1 teaspoon pepper. Continue cooking and adding stock, stirring almost constantly, until the rice is tender but still firm.
Whisk the lemon juice and mascarpone together in a small bowl. When the risotto is done, turn off the heat and stir in the mascarpone mixture plus the Parmesan cheese and chives. Set aside, off the heat, for a few minutes, sprinkle with salt and pepper, and serve hot with a sprinkling of chives and more Parmesan cheese.