One of our longest running family Christmas traditions is to make my dad's mother's sugar cookies. I made these with my grandmother Ellanor (or Tutu as I called her because she loved Hawaii) each winter a week to a day before Christmas. I remember wearing our aprons, standing in my parent's kitchen with the tile countertop, getting covered in flour, and sneaking bits of finished dough into my mouth. Even though my grandmother passed away about 10 years ago, we have continued to make these scrumptious cookies that always put me immediately into the holiday mood even in sunny California.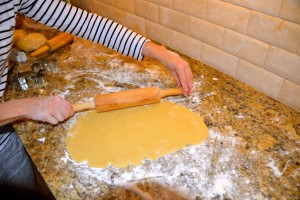 ©EverydayCookingAdventures 2012
The cookbook we refer to each year for the recipe is the Better Homes and Gardens New Cookbook from 1963. The recipe has changed a bit over the years as new editions have come out so this one varies a little from current red & white cookbooks but we stick to tradition. This year, my dad made the dough for us a couple days ago and kept it refrigerated. We took it out and let it warm up, still in the plastic wrap, on the kitchen counter for about an hour. He made the recipe 3 times so we had 6 dough halves wrapped in plastic. We ended up with about 120 cookies!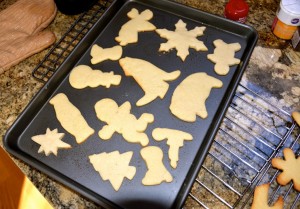 ©EverydayCookingAdventures 2012
It's always fun to roll out the dough, sprinkle everything with flour, and use cookie cutters old and new, but about half way through the cookie cutting/baking, I mostly let my dad take over again so I could sit down for a few. These cookies come out slightly brown on the bottom and soft on top. My mom makes the frosting each year and once we all work together to frost and decorate them, they are deliciously addictive. Every night for a week or so we each have at least 3-5 cookies with milk. Santa would approve. Here are our cookies: +Better Homes and Gardens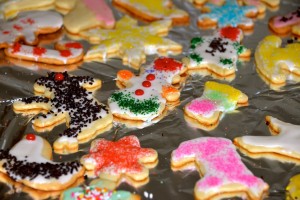 Christmas Sugar Cookies ©EverydayCookingAdventures 2012
Sugar Cookies
Makes: approximately 36 cookies, depending on size of cookie cutters
Ingredients
2/3 cup butter, softened
3/4 cup sugar
1/2 teaspoon grated orange peel
1/2 teaspoon vanilla
1 egg
4 teaspoons milk
2 cups all-purpose flour, sifted
1 1/2 teaspoons baking powder
1/4 teaspoon salt
Cookie Cutters
1 recipe Powdered Sugar Icing (see recipe below)
Decorative sprinkles and/or small candies
Directions
1. Preheat oven to 375ºF. In a large bowl, thoroughly cream butter, sugar, orange peel, and vanilla with an electric mixer on medium for 30 seconds.
2. Add egg and beat until light and fluffy. Stir in milk.
3. Sift together dry ingredients and blend in creamed mixture.
4. Divide dough in half. Chill one hour or overnight.
5. On a lightly floured surface with a lightly floured rolling pin, roll half of the dough at a time until 1/4 to 1/8 inch thick. Using cookie cutters, cut dough into desired shapes. Place 1 inch apart on a greased cookie sheet.
6. Bake for 6-8 minutes or until edges are firm and bottoms are very lightly browned. Transfer to a wire rack; cool.
7. Once the cookies are completely cooled, prepare Powdered Sugar Icing (recipe below). Spread and/or pipe the icing onto cookies.and top with sprinkles and/or candies.
Powdered Sugar Icing
Ingredients
2 cups powdered sugar
1/2 teaspoon vanilla
4 tablespoons milk
Directions: In a bowl, combine powdered sugar and vanilla. Stir in milk. Stir in additional milk, 1 teaspoon at a time, until icing reaches spreading consistency. If desired, tint with paste food coloring.