I make this mouth-watering stuffing side-dish every Thanksgiving (for about 8 years now) and a few other times throughout the year when I can't wait any longer. It is seriously my favorite thing to make and eat.  I don't add the walnuts but I think it would probably be a great added crunch, or maybe pecans. I also use a lot more fennel seed because I think it adds such nice flavoring.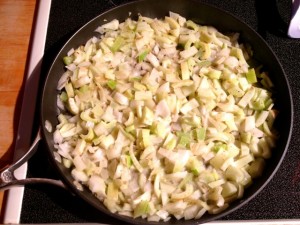 Saute onion and fennel ©EverydayCookingAdventures 2012
I food process the sausage once it is done to make it more into crumbles than chunks.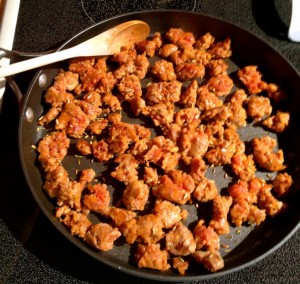 Saute the sausage ©EverydayCookingAdventures 2012
I pre-make this entire dish the day before Thanksgiving each year and just reheat in the microwave for one minute intervals between stirring it up for a total of about 4 minutes–depends on how much you have leftover or you have made. When reheating, always stir it up to make sure all of the stuffing dish is warming up and not just the top layer. Here is my stuffing: +Bon Appétit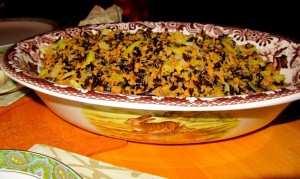 Wild Rice, Sausage & Fennel Stuffing ©EverydayCookingAdventures 2013
Wild Rice, Sausage & Fennel Stuffing
Bon Appétit, November 1995
Yield: Makes 6 servings
INGREDIENTS
3 tbsp butter (or less as desired)
3 cups canned low-salt chicken broth
1 1/2 cups wild rice (about 9 ounces), rinsed, drained
1 cup water
2 teaspoons fennel seeds
1 pound sweet Italian sausage, casings removed
3 small fennel bulbs, trimmed, chopped (about 2 1/2 cups)
2 medium onions, chopped (about 2 cups)
3/4 cup chopped toasted walnuts (optional)
PREPARATION
1. Combine broth, rice, 1 cup water and fennel seeds in heavy large saucepan over medium-high heat. Bring to boil. Reduce heat to medium, cover and simmer until rice is tender, stirring occasionally, about 45 minutes. Drain.
2. Meanwhile, sauté sausage in heavy large skillet over medium-high heat until cooked through, breaking up with back of spoon, about 10 minutes. Using slotted spoon, transfer sausage to paper towels and drain. (NOW IS WHEN I PROCESS IN FOOD PROCESSOR!)
3. Add chopped fennel bulbs, butter and onions to drippings in skillet. Sauté over medium-high heat until vegetables are golden, about 10 minutes. Add rice and sausage to skillet. Sauté until heated through, about 3 minutes. Stir in walnuts, if desired. Season to taste with salt and pepper.
MAKE AHEAD TIP: (Can be prepared 1 day ahead. Cover and refrigerate. If serving as side dish, rewarm covered in 350°F. oven for 20 minutes.) Transfer to bowl and serve. If using as stuffing, cool completely and fill bird.
SaveSave