This was a recipe passed on from one generation to another, a family recipe of a friend's passed on to me. Sometimes, I get intimidated by baking, what with the exact measurements, rising of dough,  ingredients that have to cohere properly. But, I do make Christmas sugar cookies every year (click the link for that recipe) with my parents so I figured I'd give this recipe a shot. It has become my go-to cookie/dessert treat recipe. My husband and I have been guilty recently of making batches back to back because they're so good!
The recipe is fast and easy and made even quicker with my @kitchenaid stand mixer. Otherwise you can use just your own two hands, one bowl, and a spatula. We usually half this recipe exactly so that it makes about 2 dozen cookies.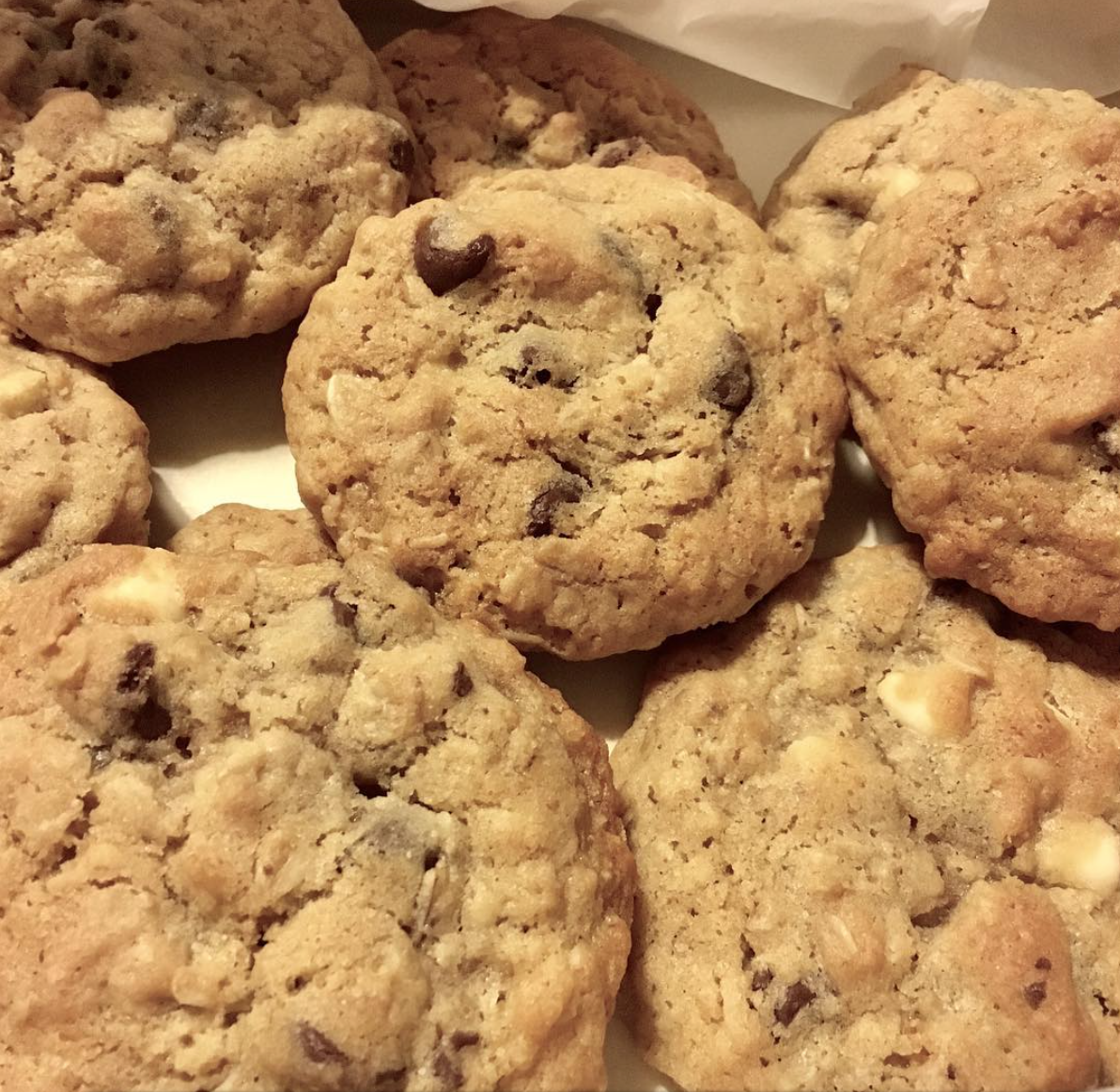 They stay soft for a few days in a parchment paper-lined tin or tupperware. The oatmeal gives them a comforting, country taste and you can play around with the types of chips. We've used semi-sweet, milk chocolate, white chocolate, and butterscotch or a combination there of. Don't be intimidated to try your own baking because this recipe is truly fool-proof. And you know exactly what's going into your delicious treat instead of the store-bought cookies. Enjoy!
Classic Chewy Oatmeal Chocolate-Chip Cookies
From: Everyday Cooking Adventures, 2017
Makes: about 4 dozen cookies
Ingredients:
1 cup shortening(butter) or margarine (or 1/2 cup each) –softened on the counter (out of sunlight) for about 1 hr
3/4 cup brown sugar
3/4 cup granulated sugar
2 eggs
2 cups sifted flour
1 tsp salt
1 tsp baking soda
2 cups rolled oats
2 cups chocolate chips (semi-sweet, milk chocolate or white) or raisins
1/2 cup chopped nuts, if desired
Directions:
1. Preheat oven to 350ºF.
2. In a large bowl cream shortening (once softened but never melted) and sugars.
3. Beat eggs into the sugar mixture.
4. Add the rest of the ingredients, thoroughly mixing in each ingredient.
5. Heap tablespoon-size scoops of dough on a baking sheet. If sheet is not non-stick, use non-stick spray first. Bake 8-10 minutes. Let cool on wire rack. Store in parchment