The creator of this recipe is Alessandra Rovati, whose cooking blog Dinner in Venice is one of my favorites to follow. She was born and raised in Venice, Italy (jealous!) and has had her articles on cooking and Jewish-Italian holiday traditions featured in everything from The New York Times to the Joy of Kosher.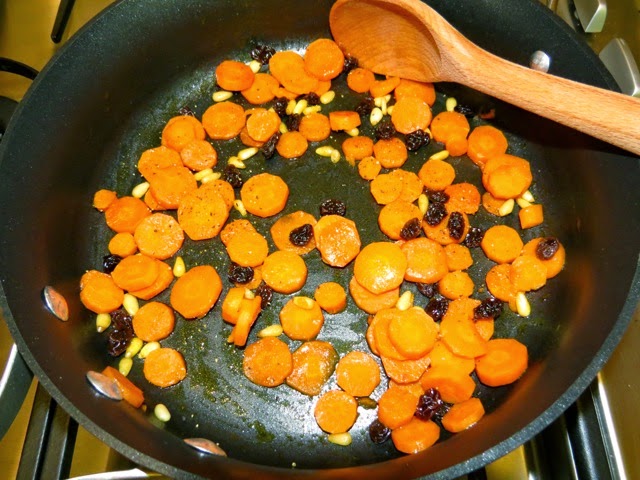 ©EverydayCookingAdventures 2014
She describes this recipe as part of the traditional menu of the "public seder in the social hall in Venice go[ing] back to 1891, making it the oldest in Italy. In particular, we are all very attached to the vegetable sides: artichokes, of course; stewed fennel; and this sweet-and-sour carrot stew, which will remind some of you of Tzimmes, but it's much less sweet." This communal gathering sounds like such a unique and wonderful public holiday tradition and the carrots looked too good not to give a try in my own home.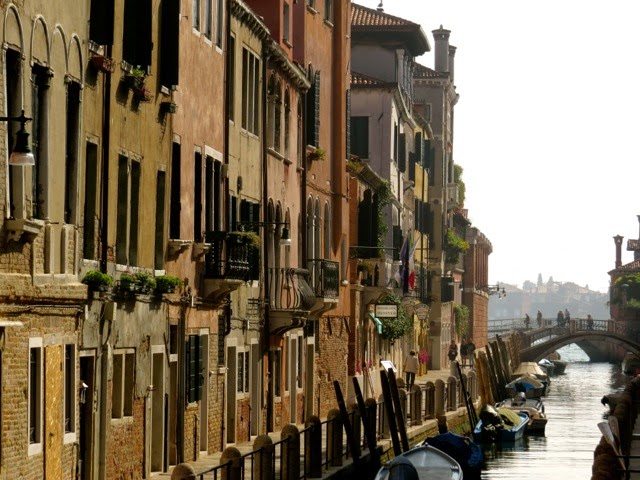 From my visit to Venice, Italy in October 2013 with my mom ©EverydayCookingAdventures 2014
This dish is so beautiful when served with the vibrant orange carrots flecked with cream-colored pinenuts and dark raisins. The vinegar can be faintly smelled with each bite. It is a delicious side-dish for the Passover table but it also symbolically can represent what the holiday is all about. The sour vinegar taste represents the bitterness of slavery and the sweet raisins represent the happiness of freedom.
Sweet-and-Sour Seder Carrots
Ingredients:
4-5 Tbsp. extra virgin olive oil
2 lb carrots, peeled and sliced into thin rounds
Kosher salt
1/2 cup raisins, plumped in hot water
1/4 cup pinenuts
Black pepper
2 Tbsp. white wine vinegar, or to taste (Kosher for Passover)
Directions:
1. Place the olive oil in a pot or skillet with the sliced carrots, and drizzle with about 1/2 cup water. Add salt, and cook on low heat, covered, stirring occasionally, for about 10-15 minutes.
2. Add the raisins and pine nuts and some black pepper, and cook uncovered, over high heat, for 2 to 5 minutes or until desired tenderness (the carrots should be soft). When they are almost done, add the vinegar and cook for one more minute or until it's absorbed.
See her recipes and the original write-up on this fantastic recipe here:
http://dinnerinvenice.com/2013/03/18/sweet-and-sour-seder-carrots/