Don't Forget to Checkout My Thanksgiving Made Easy Post for your holiday planning this week.
You won't believe me until you make this yourself but squash and poblano peppers make a really, really good gratin combination. I was skeptical but curious so I decided to give this autumn-inspired recipe a go last night for dinner. The only hard part is that it really does take 2 hours from beginning prep to ready to serve. However, you can make the entire thing ahead of time just up until baking and refrigerate it overnight so all you have to do at dinnertime is throw it into the oven.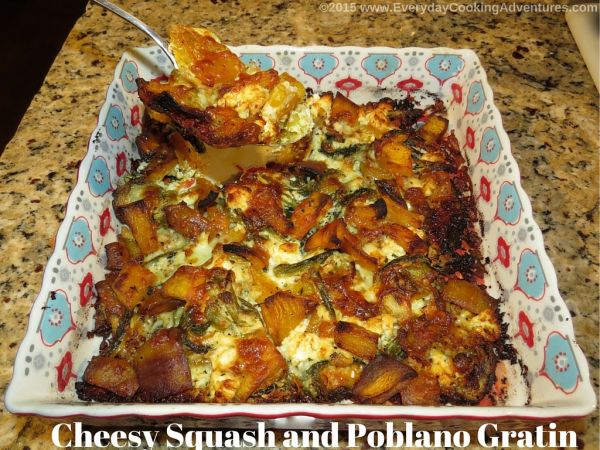 I used a pie pumpkin because I had one leftover from Halloween time and was excited to find a use for it besides making the usual pumpkin pie. I have never cooked with poblano peppers before and I also have never charred anything in the broiler but lo and behold it worked! I put the peppers directly on the top rack of the oven and turned them with tongs every 3-5 minutes. After about 15 minutes the peppers were patched all over with black charring and ready to be peeled. It was EASY! I used a sharp pairing knife to slide between the now loose skin and the meaty part of the pepper and it just came right off in large strips.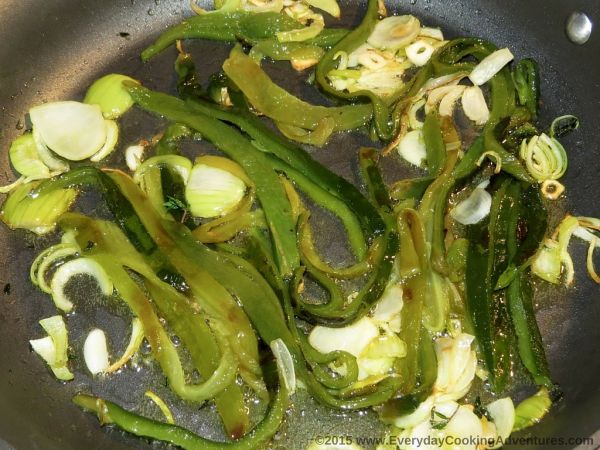 The end result of this dish was absolutely divine! But, the more I think about it, who doesn't like a recipe with lots of cheese in it?! The poblano wasn't spicy just had a slight kick to it in certain bites and the creamy, cheesy bits melted in your mouth. The squash (pumpkin) had just the right sweetness to balance it all out.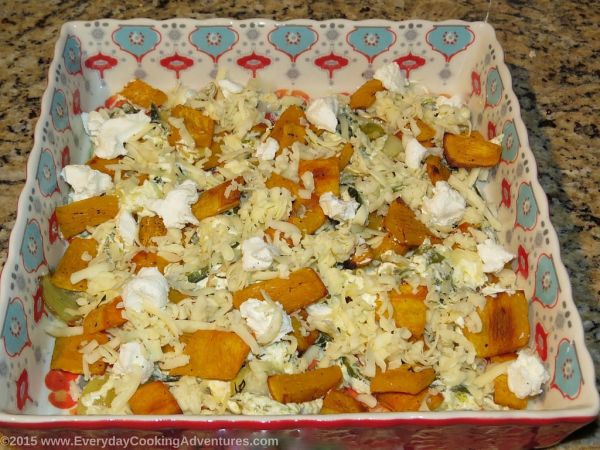 It feels very Thanksgiving-y as well because the Native Americans (members of the Wampanoag tribe) and the Pilgrims both ate squash (pumpkins) so it is likely they had it at the famous meal. You know what they didn't have? Potatoes! They hadn't yet arrived as a crop in North America at the time of the pilgrims. I hope you'll give this recipe a try. It looks beautiful set out on the table too…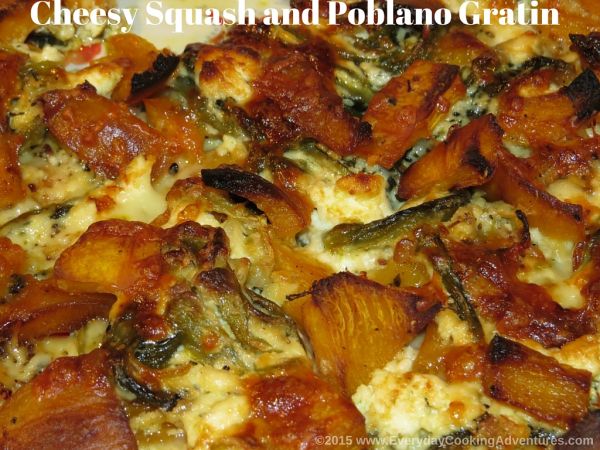 Squash Gratin with Poblanos & Cream
Recipe from: Food and Wine, "F&W's Ultimate Thanksgiving Guide," November 2010
Total time: 2 hours (or make-ahead and bake the next day)
Servings: 4
Ingredients:
2  poblanos (about 3/4 to 1 pound)
1/2 butternut squash or pie pumpkin (1 pound)—peeled, halved, seeded and sliced 1/2 inch thick
3 Tbsp. extra-virgin olive oil
1/2 tsp. coarsely chopped thyme
Salt and freshly ground black pepper
1/2 small white onion, thinly sliced
1 large garlic clove, thinly sliced
1/4 tsp. coarsely chopped oregano
3 Tbsp. heavy cream
1/4 cup crème fraîche or sour cream
2 ounces Monterey Jack cheese, shredded
2 ounces farmer cheese (see *Note)
Directions:
Preheat the oven to 400°F. Roast the poblano directly over a gas flame or under the broiler, turning, until charred all over. Transfer to a bowl, cover tightly with plastic wrap and let cool. Peel, stem and seed the chile, then cut into thin strips.
Brush the butternut squash or pumpkin with 1 1/2 tablespoon of the olive oil and put it on a large rimmed baking sheet. Sprinkle with 1/4 teaspoon of the thyme and season with salt and pepper. Roast for about 25 minutes, until the squash is tender, shifting the pans from top to bottom and front to back halfway through baking. Remove from the oven and increase the oven temperature to 425°F.
Meanwhile, in a large, deep skillet, heat the remaining 1 1/2 tablespoons of olive oil. Add the sliced onion, garlic, oregano and the remaining 1/4 teaspoon of thyme and cook over moderate heat, stirring occasionally, until the onion is softened and fragrant, about 8 minutes. Add the poblano strips and cook until they are very tender, about 5 minutes. Add the heavy cream and simmer until thickened, about 3 minutes. Remove from the heat. Stir in the crème fraîche/sour cream and season the poblano mixture with salt and pepper.
Spoon half of the poblano mixture into an 8″x8″ or 2-quart greased baking dish and top with half of the squash. Then sprinkle on half of the Monterey Jack and farmer cheeses. Repeat with the remaining poblano mixture, squash and both cheeses. Bake in the center of the oven for about 30 minutes, until the gratin is golden and bubbling. Let the gratin rest for 10 minutes.
MAKE AHEAD TIP: The unbaked gratin can be refrigerated overnight. Return to room temperature before baking.
*NOTE: Farmer cheese is a form of cottage cheese that has had the liquid pressed out of it. It's slightly tangy with a dry texture that makes it great for crumbling. Look for it at specialty-food stores or at cheese shops.
SUGGESTED WINE PAIRING: Fresh, melony Chenin Blanc