I am always on the hunt for a new potato dish. I've tried many different potato recipes during the time of this blog such as Tyler Florence's Scalloped Potatoes, BH&G's Onion-Soup Potatoes, Martha Stewart's Potato, Zucchini, Tomato Gratin, and The Newlywed Cookbook's Potato Wedges. All of which were seriously delicious. But, tonight, I made a traditional Jewish potato dish called a kugel–a potato kugel that is. (There are also noodle kugels). This is served on Shabbat or Jewish festivals throughout the year such as Rosh Hashanah, the Jewish New Year, which starts at sundown tonight.
This recipe seems perhaps at first glance like it might be difficult or timely but in actuality it turned out to go by very quickly. Using my mandolin to shred the potatoes and onion certainly helped speed things up but a box grater would produce the same result. I squeezed the liquid out of the shredded potatoes quite a bit but when I saw the finished product in the bowl it seemed a bit overly wet. I was starting to get nervous, but after I tossed it into the hot cast iron skillet and peeked at it in the oven after the first 20 minutes, I could see my worrying was needless. The dish was getting nicely browned on top and the edges were all bubbling up as the liquid burned off and cooked the potatoes.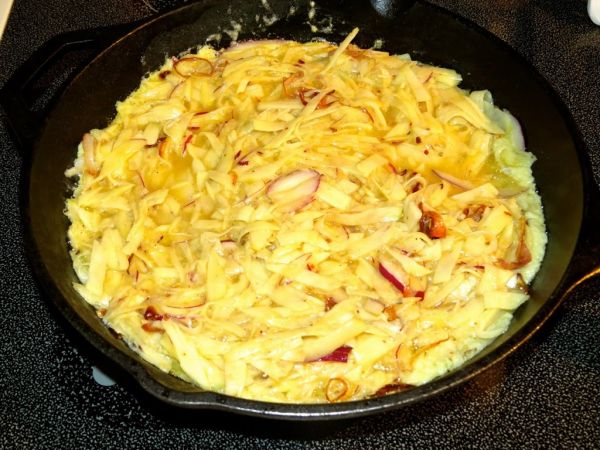 Kugel ready for the oven ©EverydayCookingAdventures 2013
I was really excited when it came time to take the kugel out of the oven. It looked and smelled fantastic. I let it rest about 15 minutes and then sliced it up. The crust and top layer of the kugel was perfectly browned and crispy like hash browns and the inside was truly creamy and decadent tasting. I absolutely loved this dish. What a great recipe! And the fact that it can be made ahead makes it perfect for any holiday meal or dinner party. After our two large helpings, we have enough leftover for 2 more meals. Hooray! I served the kugel tonight alongside Martha Stewart's Chicken Breasts with Carrot, Onion, & Prunes and a dollop each of apple sauce and sour cream. Here's my potato kugel:

Potato Kugel with Fried Shallots
From: Food and Wine Magazine, Passover Recipes, April 2008
ACTIVE TIME: 45 MIN
TOTAL TIME: 2 HRS
SERVINGS: 5
Ingredients:
1/2 cup vegetable oil
2 large shallots, thinly sliced
2 pounds Idaho potatoes, peeled and coarsely shredded (about 5-6 potatoes)
1/2 large yellow onion, coarsely grated
3 tbsp potato starch
1/2 tablespoon kosher salt
1/2 teaspoon freshly ground black pepper
Pinch of freshly grated nutmeg
2 large eggs, beaten
1 large egg yolk, beaten
1/4 cup extra-virgin olive oil
1/2 cup boiling water
Directions:
1. Preheat the oven to 450°F. In a medium saucepan, heat the vegetable oil until shimmering. Add the shallots and cook over high heat, stirring occasionally, until golden and crisp, about 6 minutes. Using a slotted spoon, transfer the shallots to a plate. Reserve the shallot oil.
2. Working in batches, squeeze out as much of the liquid as possible from the potatoes and transfer them to a large bowl as you go. Add the grated onion, potato starch, salt, black pepper and grated nutmeg and stir well. Stir in the whole eggs, egg yolks, olive oil and boiling water, then stir in the fried shallots.
3. Heat an 8-by-11 1/2-inch flameproof or enameled cast-iron baking dish over high heat until they are very hot. Add 2 tablespoons of the shallot oil to the baking dish and heat until smoking. Carefully spread the potato mixture in the sizzling baking dish.
4. Transfer the potato kugel to the oven and bake for 20 minutes. Lower the temperature to 375°F and bake the kugel for 40 minutes longer, until golden and crisp on the sides.
5. Preheat the broiler. Broil the potato kugel as close to the heat as possible for about 2 minutes, until they are browned and crisp on top. Let the potato kugel stand for 20 minutes before cutting into squares and serving.
MAKE AHEAD TIP: The baked potato kugel can be refrigerated overnight and reheated in a 375°F oven.