Happy belated Independence Day, U.S.A! We celebrated with my friend of 23 years and her sweet husband, parents, and 4 children! It was the perfect way to relax, have some laughs, play like a kid again, and make a bunch of yummy summertime food. When having people over I like to plan my meals ahead of time so that I am not stuck in the kitchen the whole time. This recipe is perfect for that.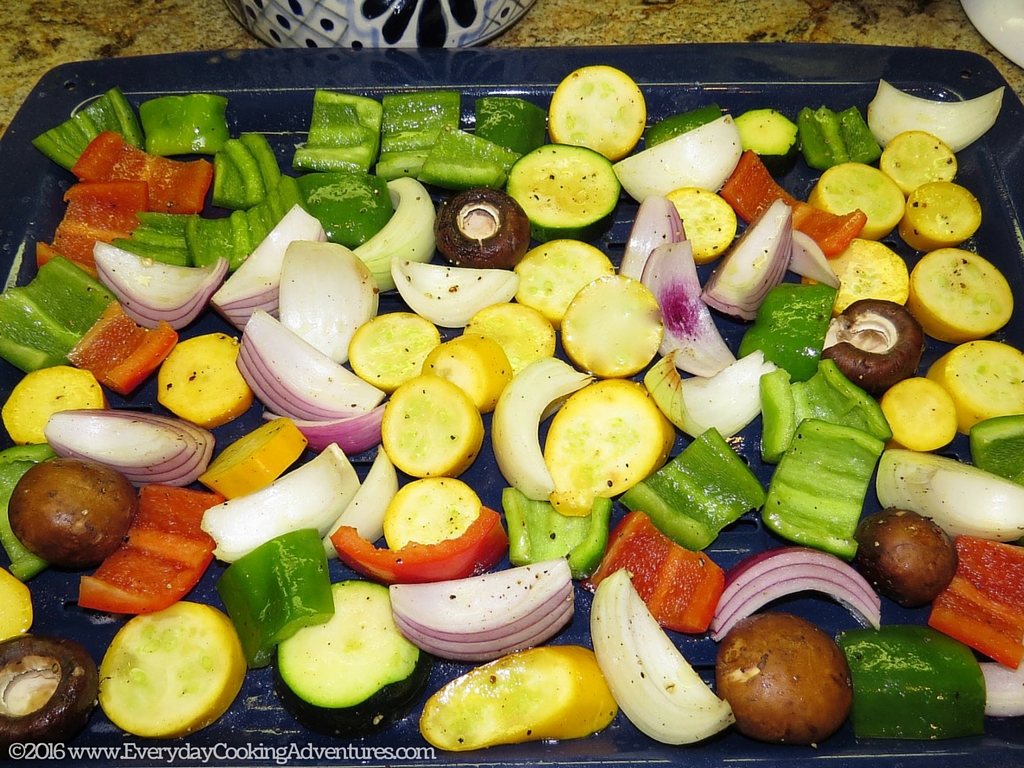 We had a Tomato and Watermelon Salad (recipe to come), Alton Brown's Potato Salad (click for recipe), and fruit salad served in a scooped out watermelon. My husband, the Grilling King!, made us burgers and some zucchini kebabs from this recipe and I broiled the rest of the veggies in the oven. The best part was that I could chop up all the vegetables the night before and keep them in resealable plastic baggies until the next morning.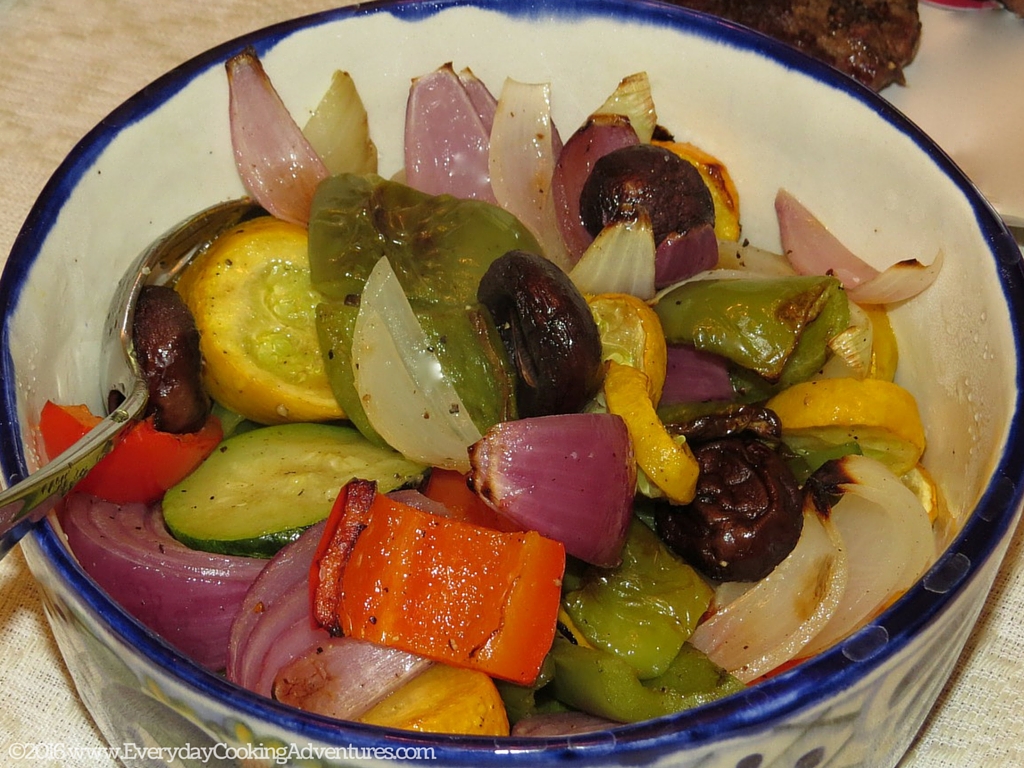 A couple hours before the get together, I rolled them in olive oil and salt and peppered them all and spread them on the broiler pan/kebab sticks. I preferred the grilled kind because they got crispier and that grilling essence of flavor, but all were delicious, even when the leftovers were reheated on the grill in a vegetable basket for dinner. Easy, colorful and healthy! I hope you all enjoyed the 4th as much as we did!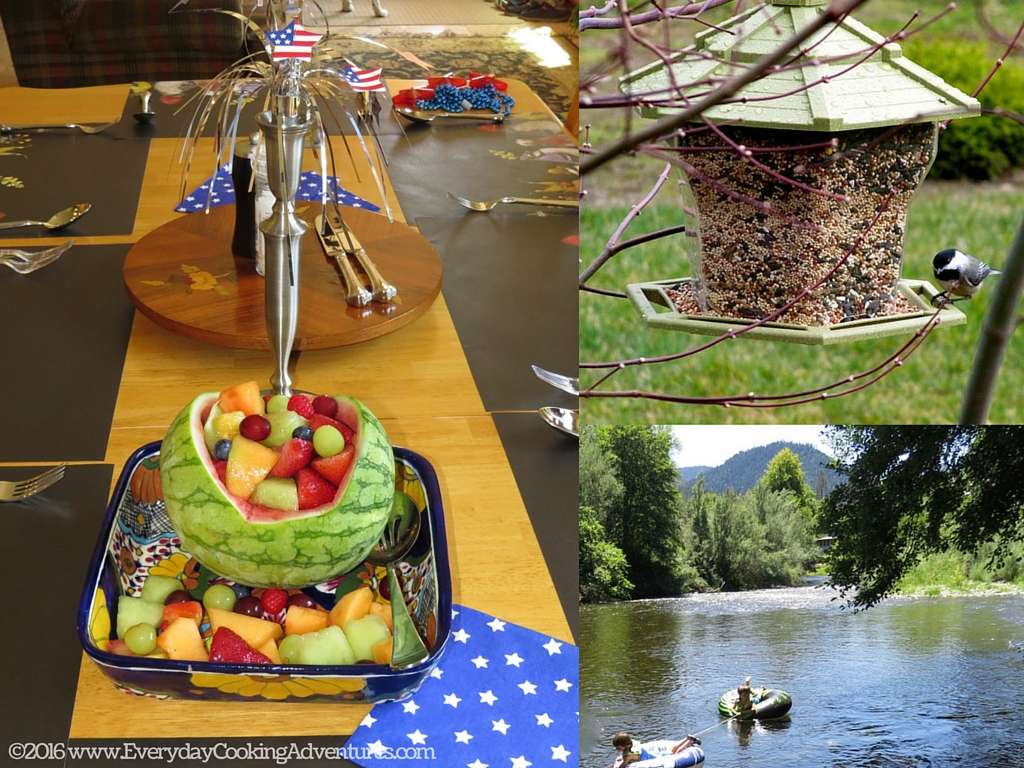 Vegetable Kebabs
Recipe By: Gourmet Magazine, August 2006
Makes: 8 servings
Ingredients
For vinaigrette:
1/2 cup white-wine vinegar
1 Tbsp. balsamic vinegar (preferably white)
1 large garlic clove, minced
1 1/4 tsp. sugar
1/2 tsp. salt
1/4 tsp. black pepper
1 cup olive oil
For vegetables:
1 lb small zucchini, cut crosswise into 3/4-inch-thick slices
1/4 cup olive oil
1 1/2 tsp. salt
3/4 tsp. black pepper
3/4 lb. cherry tomatoes
1 lb. baby eggplant (about 4 inches long), cut crosswise into 3/4-inch-thick slices
10 oz. cremini mushrooms, trimmed
2 yellow bell peppers, cut into 1 1/2-inch pieces
1 large red onion, cut into 1 1/2-inch pieces
18 (12-inch) metal or wooden skewers (soaked in warm water 30 minutes if wooden)
Directions:
Whisk together all vinaigrette ingredients in a glass container until combined.
Toss zucchini in a large bowl with 2 teaspoons oil, 1/4 teaspoon salt, and 3/4 teaspoon black pepper.
Repeat with remaining vegetables, working with one type at a time and keeping each batch separate. Thread vegetables onto skewers (thread zucchini and eggplant horizontally through slices so cut sides will lie flat on grill; leave about 3/4 inch between tomatoes, mushrooms, bell peppers, and onions), using 3 skewers per type of vegetable and not mixing vegetables.
Grill or Broil:
Grill: Prepare grill for cooking over medium-hot charcoal (moderate heat for gas). Grill kebabs in 2 batches on lightly oiled grill rack, covered only if using gas grill, turning over once, until vegetables are tender (vegetables, except tomatoes, should be lightly browned; tomatoes should be blistered and shriveled), 6 to 10 minutes (timing will vary among vegetables).
Broil: If you aren't able to grill outdoors, you can broil vegetable skewers in 2 batches on oiled rack of a broiler pan 4 to 6 inches from preheated broiler, turning over once, until golden, about 6 minutes per batch.
5. Transfer skewers as cooked to a platter and, if desired, remove vegetables from skewers. Drizzle with some of vinaigrette and serve remaining vinaigrette on the side.
MAKE AHEAD TIP: Vegetables can be threaded onto skewers 1 day ahead and chilled, covered.