Well folks, Everyday Cooking Adventures is back! When I made this recipe I just knew I couldn't keep it to myself. It had to be shared, and thus the inspiration to continue the blog has returned. I'm just excited to start up again after a harrowing 2 month recovery from being mauled by a bear. Okay it wasn't anything crazy like that, but I am finally on the mend from some scary emergency surgery that has kept me in and out of the hospital for months. There's isn't anything much more comforting than being back in one's own kitchen.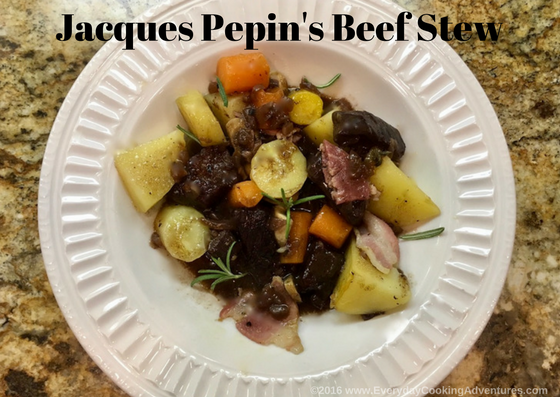 I've made many a beef stew or as the French say, beef bourguignon, in my time. Whether it was from Real Simple Magazine, Williams-Sonoma, or the amazing Julia Child; slow-cooker to stove-top to oven, I have tried it. But, ladies and gentlemen this is by far the best recipe yet. And of course it is…it's from Jacques Pepin's mother who was the chef of a restaurant herself and was quintessentially French. Without using stock, demiglace or more than a tablespoon of butter, the sauce for this stew is the most delicious ever.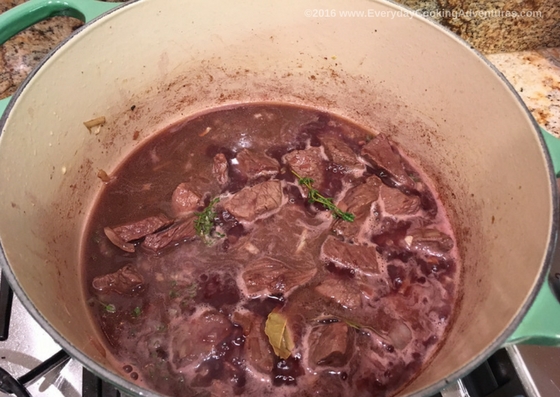 You may think using a bottle of wine is a bit much but the oven manages to burn off the alcohol so you are left with a gravy-like consistency that is just a tad salty, sweet, and earthy from the onions and garlic. In short, it's heavenly. And the meat is fork-tender even in just that short time in the oven and without using a slow-cooker. The vegetables all become tender steaming on the stovetop and when you combine it altogether it's perfection in stew form. I've halved the whole recipe for just the two of us and it came out divine. I hope you will give it a try!

Beef Stew in Red Wine Sauce
Recipe by: Jacques Pepin (his mother's recipe), Food and Wine Magazine, April 2007
Total Time: 
Servings: 4
Ingredients: 
1 Tbsp. unsalted butter
2 Tbsp. olive oil
2 pounds trimmed beef flatiron steak or chuck, cut into 8 pieces
Salt
Freshly ground black pepper
1 cup finely chopped onion
1 Tbsp. finely chopped garlic
1 Tbsp. all-purpose flour
One 750-milliliter bottle dry red wine (Cabernet Sauvignon or Merlot are best)
2 bay leaves
2 thyme sprigs
One 5-ounce piece of pancetta
15 pearl or small cipollini onions, peeled
15 cremini mushrooms, sliced thick
15 baby carrots, peeled
3 yellow potatoes, halved, then each half quartered
Sugar
Chopped fresh parsley or rosemary, for garnish
Directions:
Preheat the oven to 350°F. In a large enameled cast-iron casserole or dutch oven, melt the butter in 1 tablespoon of the olive oil. Arrange the meat in the casserole in a single layer and season with salt and pepper. Cook over moderately high heat, turning occasionally, until browned on all sides, 8 minutes.
Add the chopped onion and garlic and cook over moderate heat, stirring occasionally, until the onion is softened, 5 minutes. Add the flour and stir to coat the meat with it. Add the wine, bay leaves and thyme, season with salt and pepper and bring to a boil, stirring to dissolve any brown bits stuck to the bottom of the pot.
Cover the casserole and transfer it to the oven. Cook the stew for 1 1/2 hours, until the meat is very tender and the sauce is flavorful.
Meanwhile, in a saucepan, cover the pancetta with 2 cups of water and bring to a boil. Reduce the heat and simmer for 30 minutes. Drain the pancetta and slice it 1/2 inch thick, then cut the slices into 1-inch-wide lardons.
In a large skillet, combine the pancetta, pearl onions, mushrooms, carrots and potatoes. Add the remaining 1 tablespoon of olive oil, 1/4 cup of water and a large pinch each of sugar, salt and pepper. Bring to a boil, cover and simmer until almost all of the water has evaporated, 15 minutes. Uncover and cook over high heat, tossing, until the vegetables are tender and nicely browned, about 4 minutes.
To serve, stir some of the vegetables and lardons into the stew and scatter the rest on top as a garnish. Top with a little chopped parsley and serve.
SUGGESTED WINE PAIRING: Robust, dark-fruited Cabernet Sauvignon