My mom and I have taken a lot of cooking classes together both at Williams-Sonoma in San Francisco and Draeger's Market in the San Francisco peninsula. I learn things better by watching them so taking classes on Spanish paella, Italian comfort foods, French basics, and Japanese sushi making get me out of my comfort box and trying new things in my own kitchen. Yesterday, I attended a wonderful cooking class in Jacksonville, Oregon on Thai Noodles.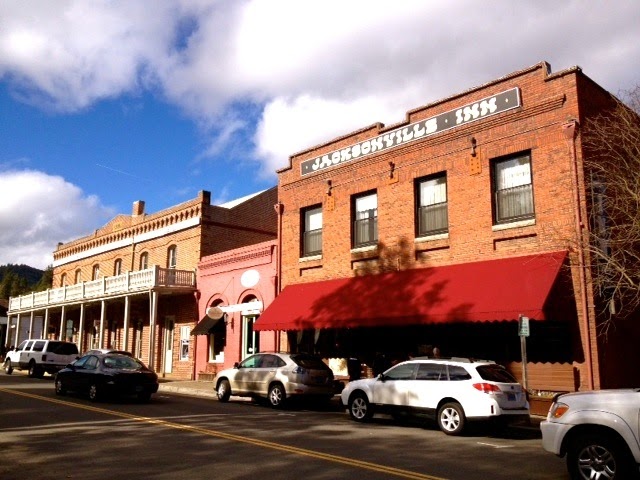 ©EverydayCookingAdventures 2014
Now, I love me some Thai food, as I've mentioned before, but making your own noodles is a step I never thought I'd take. Noodles like pasta making seem foreign concepts to me but after my cooking class, I was hoping they would feel a little more reachable. The class was held at the Jacksonville Mercantile in the quaint, historic and very well preserved town of Jacksonville in southern Oregon, right by the Medford airport and the precious town of Ashland with its almost yearlong Oregon Shakespeare Festival.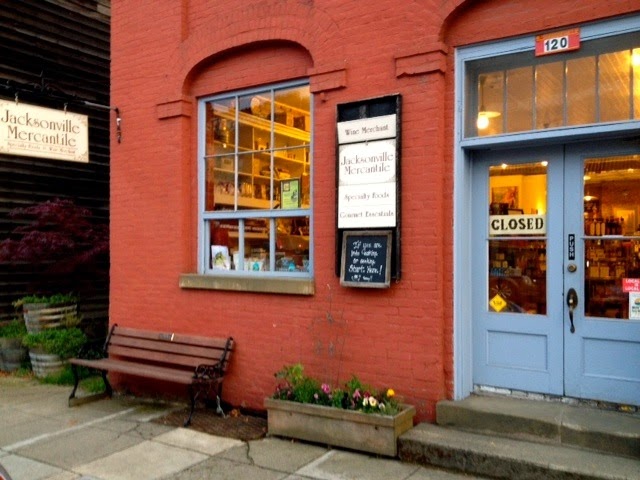 ©EverydayCookingAdventures 2014
I brought my longtime friend, Elizabeth, and started the evening off with clinks of our glasses of locally made sparkling juice. It was a demonstration type class that luckily included eating hearty bowls of the two main dishes we watched being made. The Jacksonville Mercantile sells all kinds of gourmet and unusual foods and cooking products ranging from their homemade Avocado Garlic Olive Oil to interestingly shaped dried pastas from Italy and all kinds of rare spices. So it was fitting that our recipes had a few ingredients that I hadn't heard of such as wheat starch and Palm sugar. I was learning more already!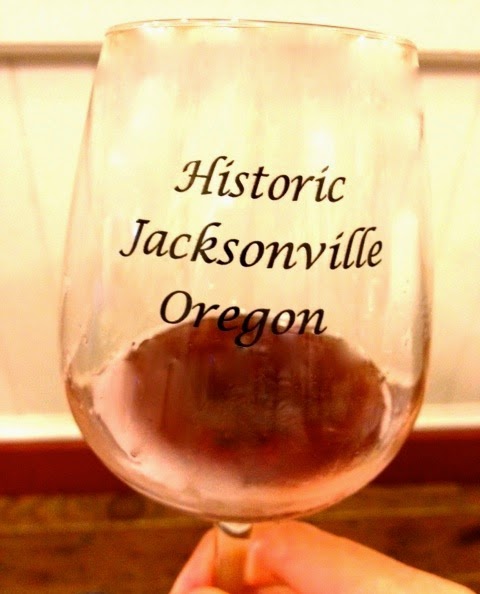 ©EverydayCookingAdventures 2014
We watched store owner and trained at Le Cordon Bleu chef, Constance Jesser, making kway teow noodles with just a few ingredients, a few shakes of a whisk, and a steamer pot setup that you can easily put together at home with a small pan and a large pot if you don't have a bamboo steamer basket. In about 5 minutes the wide, opaque noodles were ready for steaming and 5 more minutes and they were done and ready for throwing in our next recipe, Pad See Ew. The noodles even last up to three days in the fridge if you want to make them ahead of time! Stir-fry the ingredients for the Pad See Ew Gai (gai we learned means chicken) in just a simple wok or large frying pan, and you can have dinner ready in about 10-15 minutes.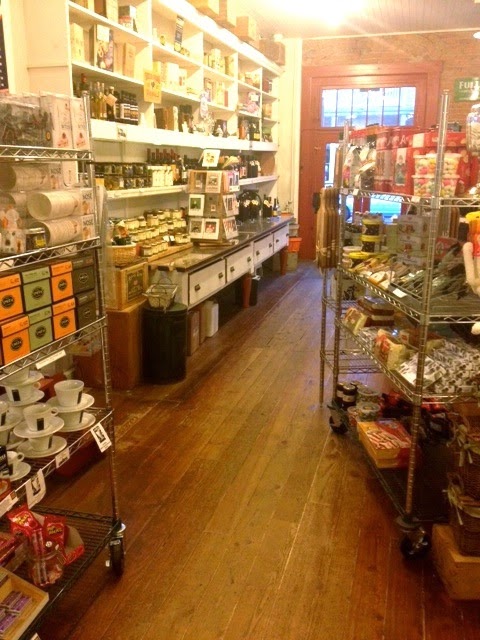 ©EverydayCookingAdventures 2014
My favorite thing to order at Thai restaurants in Pad Thai, this uses thinner rice noodles and you can use whatever proteins you like, chicken, tofu or shrimp. Fresh bean sprouts, lime juice, and peanuts add to the exotic scents and taste combinations of this delicious dish. Constance was easy to follow and I felt the recipes were within grasp for when I'm at home in my own kitchen. Not only did they seem feasible but they tasted divine! So fresh and full of flavor and something different from your normal baked chicken and mashed potatoes dinner. We both enjoyed the class and learning something new in a small setting where we could ask all the questions we wanted.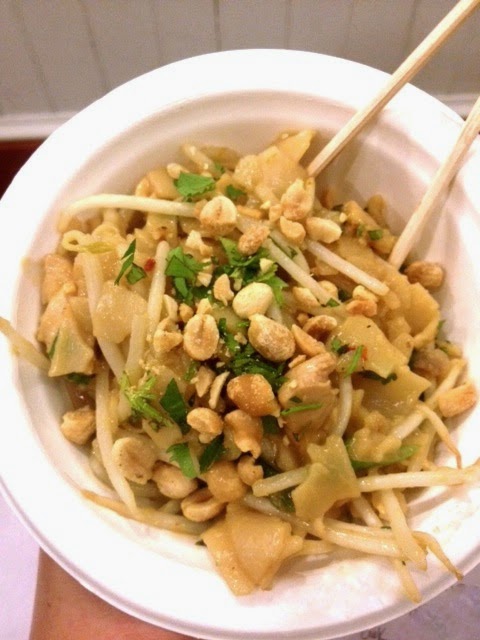 ©EverydayCookingAdventures 2014
Kway Teow Noodles & Pad See Ew Gai
Serves: 5 – 6
Ingredients:
Kway Teow Noodles: This makes 1 serving (you will need to make 7 servings)
150 grams (about 1 1/4 cup) rice flour (Constance recommends weighing precisely)
1 1/2 Tbsp. wheat starch (this is Gluten Free!)
2 Tbsp. corn starch
400 ml cold water
1 Tbsp. oil (sesame, olive or avocado oil)
1/2 tsp. salt
Pad See Ew Gai:
Oil, high heat oil such as avocado oil
1 lb. broccoli rabe (broccolini) or regular broccoli, steamed already
1 Tbsp. dark soy sauce
2 Tbsp. light soy sauce
1 egg
1 lb. flat wide rice noodles (kway teow noodles)
2 cloves garlic, minced
4 boneless, skinless chicken thighs, cut into small pieces
1 Tbsp. palm sugar or brown sugar
Directions:
1. Whisk rice flour, wheat starch, and corn starch together in a medium bowl. Add water and whisk continuously. Add in the oil and salt and continue whisking. Let rest for at least one hour, mixing every once in a while. This makes one serving of noodles. You will make one serving, steam them, then make another serving, steam them etc. until you have 7 servings.
2. Prepare steamer, such as a little water boiling in a large stock pot. When water is boiling, ladle and spread the batter into a non-stick square baking pan or the top of a steamer and cover.
3. Steam for 4-5 minutes, the noodles should look opaque when done. Remove from the steamer and allow to cool in the pan for 5 minutes before using a spatula or scraper to remove the square of noodle onto a lightly oiled plate. Roll them up like a cigar and slice into 4 to 5 parts about 1″ wide each. This will make 4-5 noodles. Repeat steps 1-3 again until you have made 7 servings. For 2 people you only need 3 to 4 servings. You can now refrigerate the noodles in an airtight container for up to 3 days or use right away.
4. For Pad See Ew Gai: Heat oil over medium-high heat in a wok or high-sided frying pan. Add garlic and cook for 1 minute. Add chicken and cook until no longer pink, about 4 minutes. Add noodles, both soy sauces and palm sugar and stir to combine. Cover for 1 minute. Add the broccoli or broccolini and cook another minute. Make a little room in the pan for the egg and add to pan. Scramble and toss lightly to combine. Serve hot.