This recipe is Mario Batali's mother's own version of blackberry pie. You know when you have an Italian mama's recipe it's going to be a delicious one!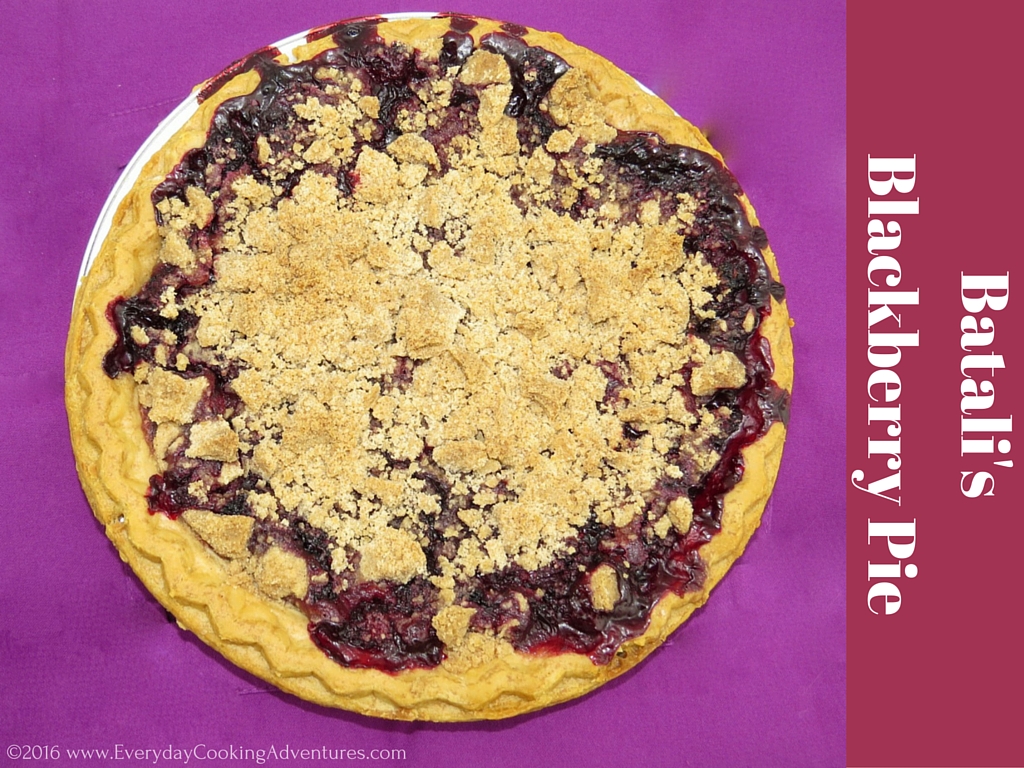 My mom and I picked these blackberries ourselves on my property. At first, I was frustrated with all the berry bushes and their very prickly thorns overtaking parts of our land. But, when my mom suggested we pick some of them, I realized how relaxing it was and how fun to have free food growing at our house! But, did they taste good?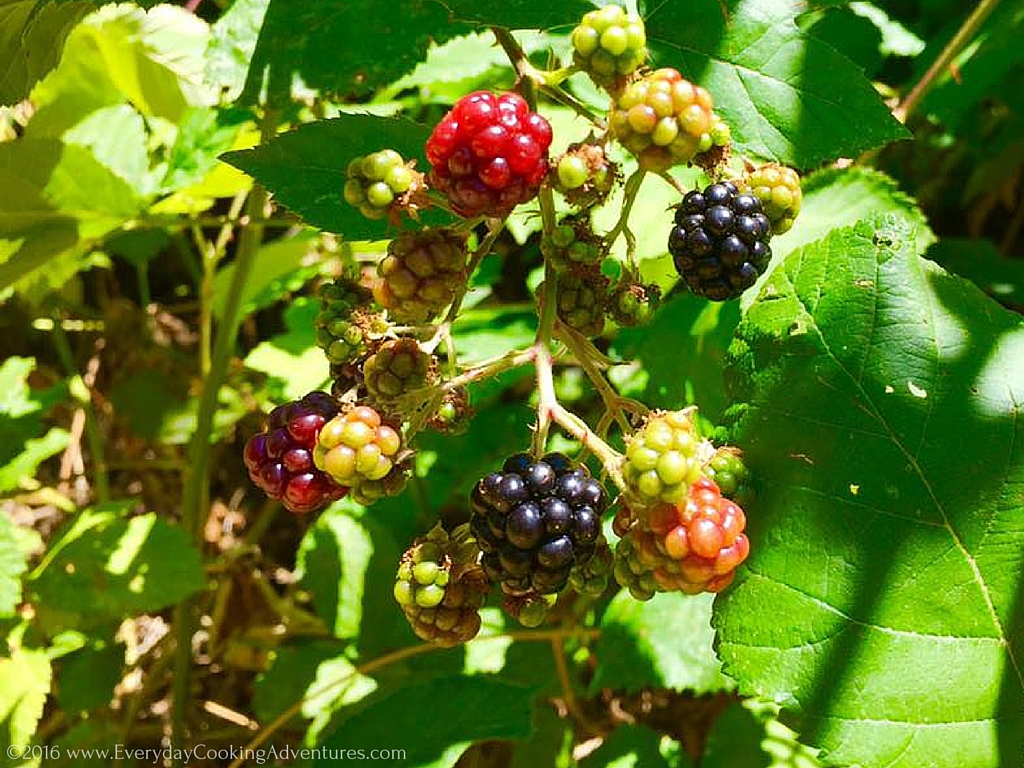 Oh, yes! We made sure to pick only the ripe, dark-colored berries that easily could be plucked from the vines and they were pleasantly sweet. We actually doubled this recipe and made two pies because we had picked so many berries! The more the merrier when it comes to dessert.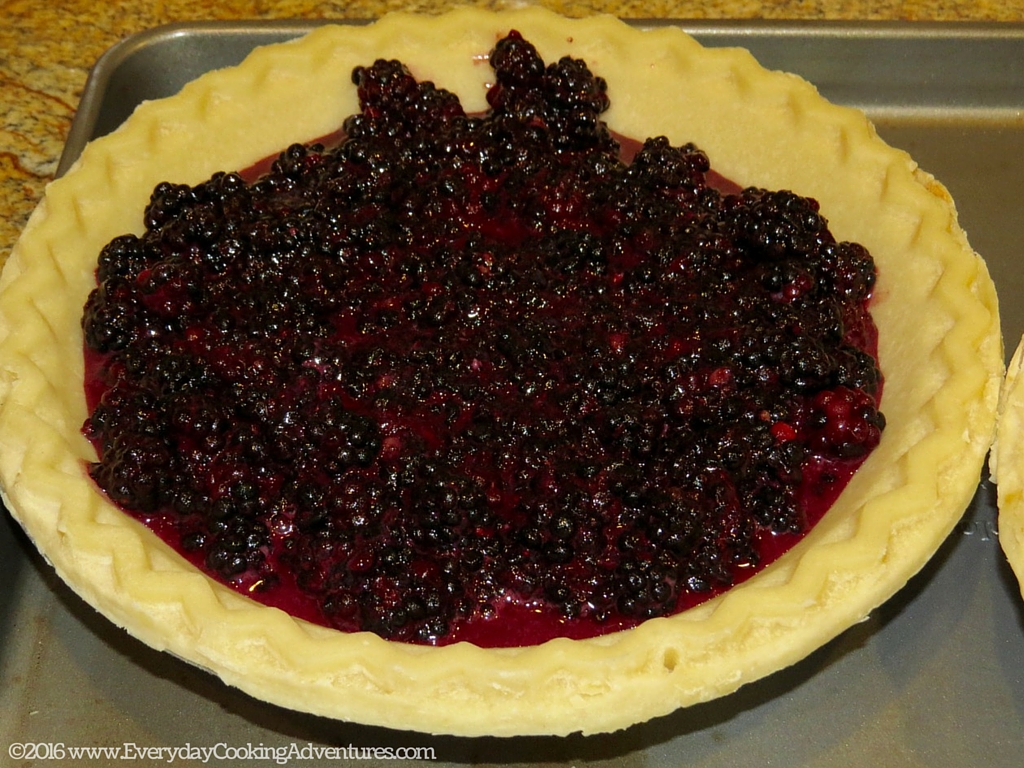 I added the topping instead of a top crust to the recipe, as you will see below, because I LOVE a good sweet crumb topping on a sweet-sour pie. We all loved the pie and shared the second one with our family friends to spread the yumminess!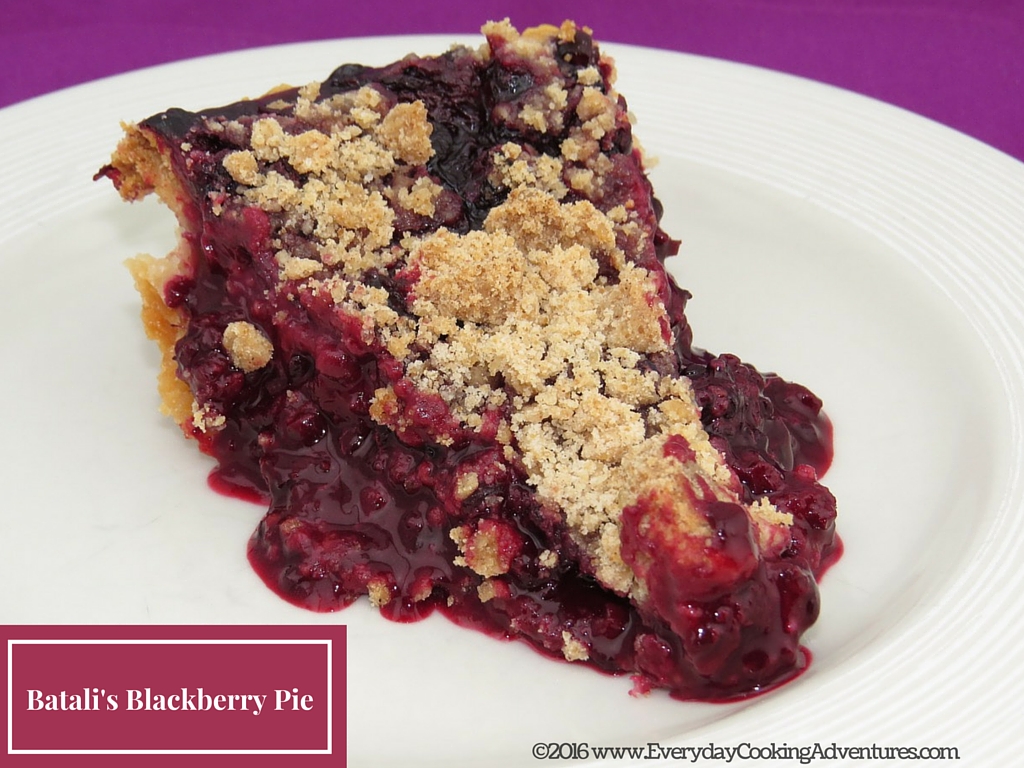 Marilyn Batali's Blackberry Pie
Hands-On Time: 30 Minutes
Cook Time: 1 hour 15 minutes
Makes: 9″ pie
Ingredients
Crust:
1 1/4 cups all-purpose flour
1 1/2 Tbsp. sugar
1/8 tsp. salt
1/2 cup solid vegetable shortening, chilled
2 1/2 Tbsp. ice water
Filling:
2 pints blackberries (1 1/2 pounds)
1/2 cup sugar
3 Tbsp. all-purpose flour
1 Tbsp. fresh lemon juice
1 Tbsp. cold unsalted butter, cut into cubes
1 Tbsp. cornstarch
Topping:
3/4 cup unbleached all-purpose flour
3 Tbsp. white sugar
2 1/2 Tbsp. (packed) light brown sugar
1/2 tsp. cinnamon
1/4 tsp. salt
5 Tbsp. butter at room temperature
Directions:
For making your own crust:
In a large bowl, whisk the flour, sugar and salt. Add the shortening and, using a pastry blender or 2 knives, cut it into the flour until the mixture resembles coarse meal. Add the ice water and stir with a fork until the dough is moistened.
Turn the dough out onto a lightly floured work surface and gather it into a ball. Knead the dough 2 or 3 times, just until it comes together. Flatten into a disk. Wrap in plastic and refrigerate until chilled, at least 1 hour.
For the filling:
Preheat the oven to 375°F. Let the dough stand at room temperature for 10 minutes. Working on a lightly floured surface, roll out one disk of dough to a 12-inch round. Transfer to a 9-inch glass pie plate.
Meanwhile, in a bowl, stir the blackberries with the sugar, flour, cornstarch and lemon juice, lightly mashing a few berries; scrape into the prepared pie crust and sprinkle the butter cubes on top.
Whisk the flour, sugar, light brown sugar, cinnamon, and salt in a medium bowl. Add the butter; mix topping with fingertips to blend until medium crumbs form. Crumble over the top of the pie.
Bake the pie in the center of the oven for 1 hour and 15 minutes, until the bottom crust is golden and the fruit is bubbling. If necessary, cover the edge with foil for the last few minutes of baking. Let the pie cool for at least 4 hours before serving. The baked pie can stand at room temperature overnight.