When I was in college there was an Argentinian restaurant down an alleyway in Pasadena, CA that I absolutely loved. It's no longer there as far as I can tell from google maps but I always ordered a salad similar to this when I went there almost 10 years ago–yikes! This salad is a tribute to the delicious food at that restaurant whose name has long been forgotten in my memory and a time in which bits and pieces are already starting to fade away.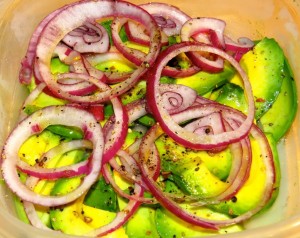 ©EverydayCookingAdventures 2013
I was blessed to go to college in a foodopolis and some of my best times in college were actually spent eating my dinners out as much as possible in places from Pasadena to Beverly Hills. I was introduced to food from cultures I had never tried before like Lebanese and Thai. It was a wonderland for someone beginning foodie life!
One avocado makes enough for two people but you could easily use two avocados to serve 3-4 people etc. The most important tip is to taste the salad after it has marinated and you are ready to serve it, to make sure the seasoning doesn't need tweaking such as a dash more sugar or salt. Now, my mom can attest to me not being a fan of raw onion but the red onion is sweeter than yellow or white and after marinating in this salad it gets even sweeter. The sweet onion and creamy avocado and lemony dressing are a perfect combination. Here's my salad: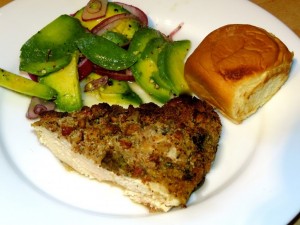 ©EverydayCookingAdventures 2013
Marinated Avocado Salad
By: Everyday Cooking Adventures, 2013 (inspiration detailed above)
Serves: 2 people
Ingredients
1 avocado, sliced into long, thin slices
1/2 lemon, cut into 2 wedges and seeded
1 tablespoon olive oil
1/4 red onion, sliced and separated into rings
1 tablespoon sugar
salt and fresh ground black pepper
Directions
1. In a small ramekin or bowl, whisk together the olive oil, sugar and lemon juice from both wedges.
2. Into a shallow bowl or tupperware, add the avocado slices, cover with the raw onion rings.
3. Pour the marinade over the avocado and onion. Season with a good amount of salt and black pepper. Cover with saran wrap or put the top on the tupperware and place in the refrigerator. Let marinate, covered, in the fridge for 20-45 minutes
4. Before separating onto two plates, test the salad to determine if seasoning needs tweaking, such as more sugar or salt or ground black pepper.