THIS WAS INCREDIBLE! I made these pork chops with a side of steamed broccoli rabe and Crispy Sliced Baked Sweet Potato and the meal is one I would anytime we have company (non-Jewish company that is). Each dish complemented the other perfectly. The sweet potatoes were crispy on the outside, sweet and soft inside, the broccoli rabe only needed salt and pepper and nothing else so it was very healthy and I liked it even better than normal broccoli! And this pork chop recipe blows any breaded version out of the water.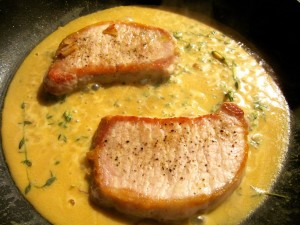 ©EverydayCookingAdventures2013
To caramelize the shallots, I just heated some olive oil in a pan, and once warm heated the shallots and a little diced onion I had leftover from yesterday and browned them lightly, then added a tablespoon or so of red wine vinegar and a dash of pure can sugar and let it heat for about 5 minutes. This is by no means the correct way to caramelize but I didn't have 45 minutes to do it the longer correct way so this would have to do—and they actually tasted divine! I didn't have cream or half-n-half unfortunately, so I mixed up a little butter and 1% milk instead. And neither of us enjoy mushrooms very much so we skipped those. Also, I used vegetable broth instead of chicken stock.
The sauce was mustard yellow of course and sprinkled with the fresh thyme made it look really tempting. I was very excited to taste this meal! I added the caramelized shallots in the pan at the last minute to warm them back up. The sauce these pork chops were served in was truly mouth-watering. I scrapped up every bit of thyme and shallot and if I'd had a roll, I'd have sopped up the little bit of remaining sauce on the plate. I highly recommend this recipe! Here's my pork chops: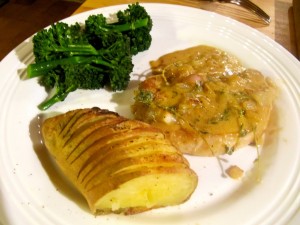 Pork Chops in Thyme, Mustard, Shallot Sauce ©EverydayCookingAdventures2013
Boneless Pork Chops in a Thyme, Mustard, Shallot Sauce
By: The Proud Italian Cook, 2012
Serves 2 people
Ingredients
1 shallot, sliced
2 pork chops (or more depending on thickness)
mushrooms
about 1/2 cup chicken stock
2 large TBSP grainy mustard
fresh thyme
1 cup cream or half and half
salt and pepper
Directions
1. Caramelize shallots and set aside.
2. Season your chops with salt and pepper then brown them in a drizzle of olive oil.
3. Remove chops, do the same with the mushrooms, then set aside as well.
4. De-glaze your pan with chicken stock enough to cover the bottom and let it bubble.
5. Add two heaping tablespoons of grainy mustard, some fresh thyme and a cup or so of cream or half and half, whisking until smooth.
6. Place the chops back in along with the mushrooms and simmer until meat is cooked through. Garnish with the caramelized shallots.