It's beginning to look a lot like Christmas in our house. The presents are wrapped under our beautifully decorated tree (at least I think it's beautiful) and the multi-colored lights are strung outside add some cheer to the street. Tonight I am throwing a holiday party filled with appetizer foods, a special homemade festive drink, and lots of Christmas cookies to let everyone "help me" decorate. This cake looked too good to pass up and with the plump fresh cranberries it seemed just right for the Christmas season.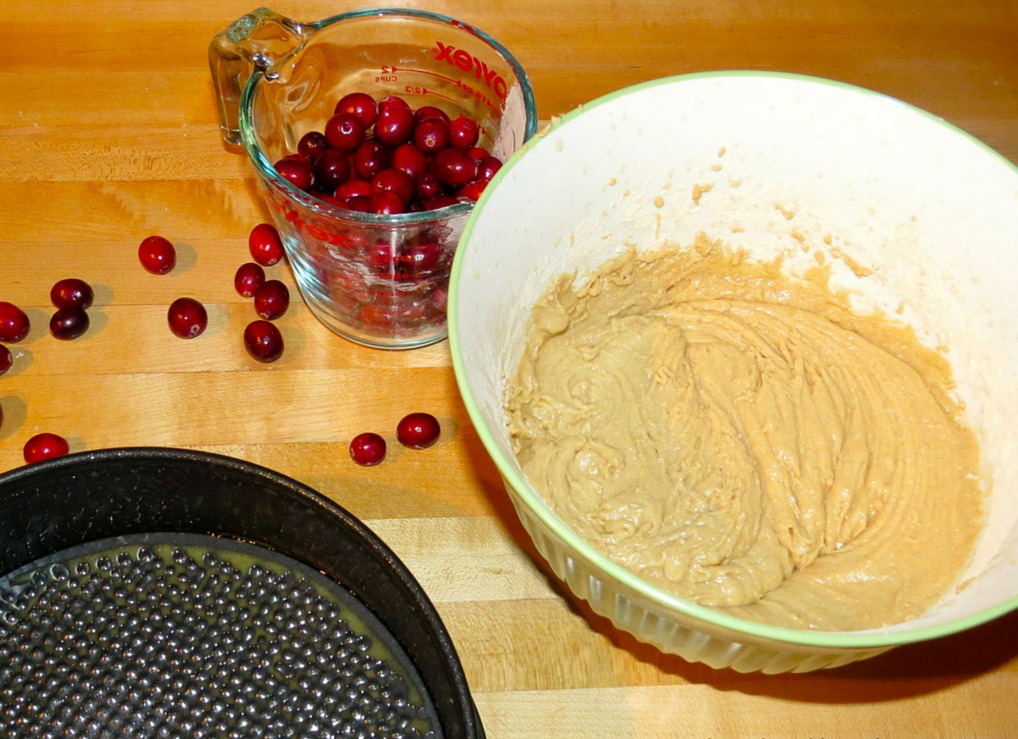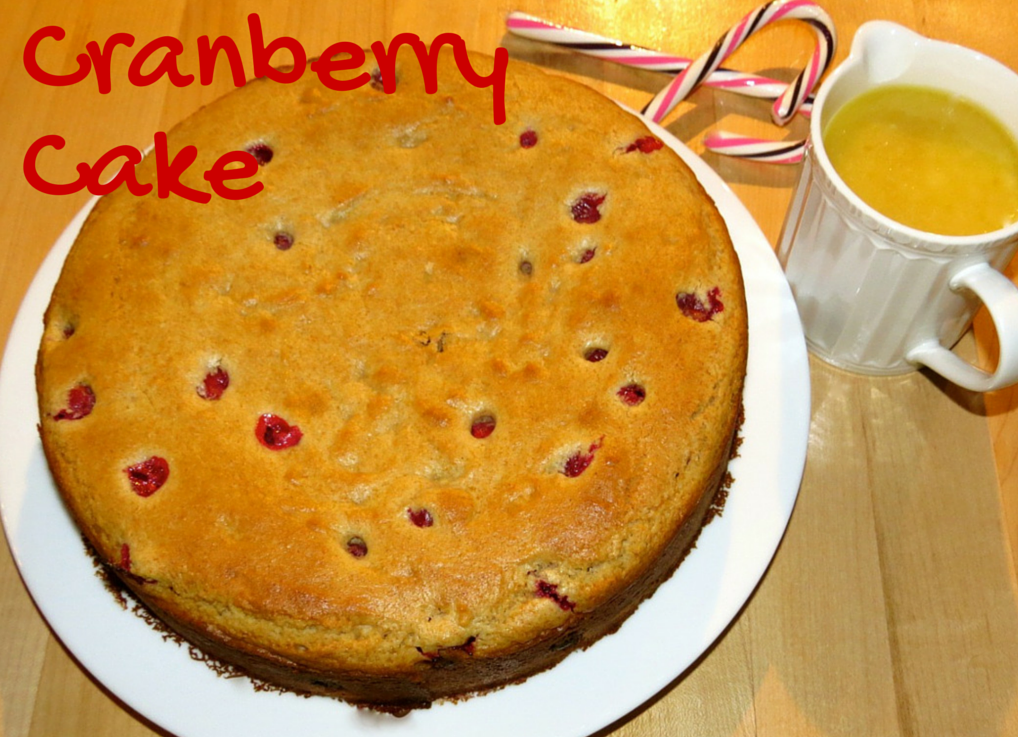 The cake was easy to whip up especially since I used a hand beater to make things go quickly. I felt that  the batter was a little too sticky though so I added about 1/4 cup of lukewarm water to it, stirred, and then poured it into my round non-stick cake pan. The cake rose nicely in the oven and was done in 35 minutes. I let it cool for a few hours before making the sauce to drizzle on just at the time of serving.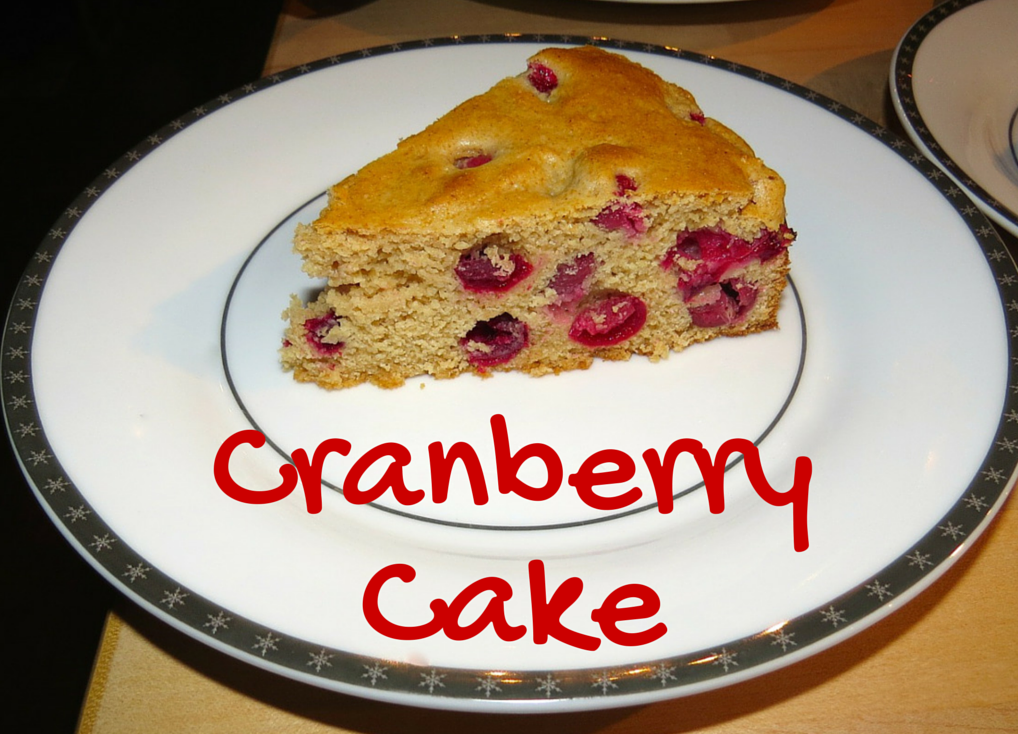 What a gorgeous dessert this was! The sauce was simple to make and really added a nice extra touch to an already lovely cranberry-studded cake. I had a little cake and sauce leftover so I covered the cake and left it on the counter and kept the sauce in an airtight container and refrigerated it.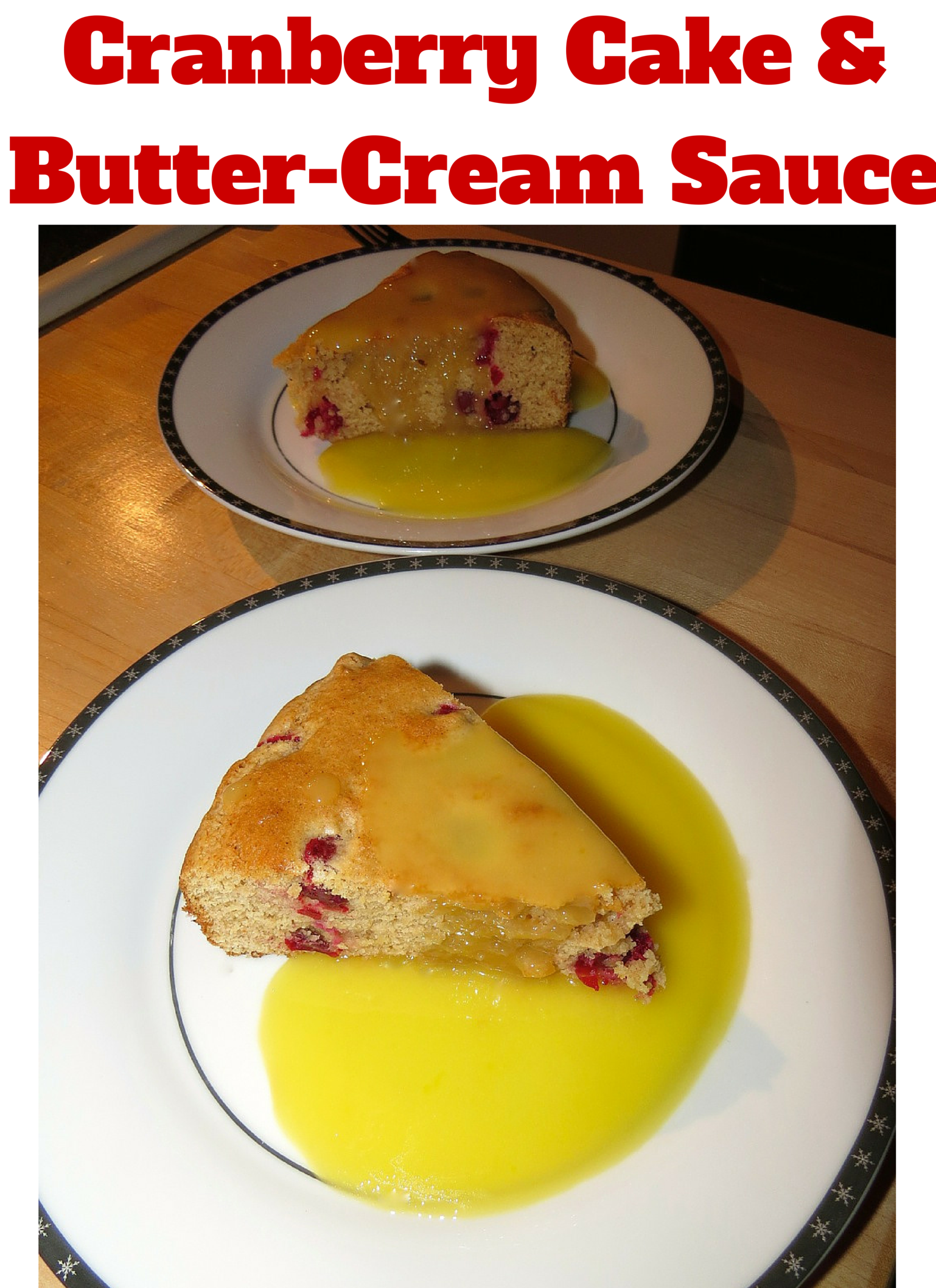 Celebration Cranberry Cake 
Recipe from: Taste of Home, Holiday & Celebrations Cookbook, 2003
Makes: 9″ cake
Prep Time: 25 minutes
Bake Time: 40 minutes + cooling time
Ingredients
3 Tbsp. butter, softened
1 cup sugar

1 cup evaporated milk

2 cups all-purpose flour

3 tsp. baking powder

1 tsp. salt

Optional: 1/4 cup lukewarm water

2 cups fresh or frozen cranberries, halved
Butter Cream Sauce:
1/2 cup butter, cubed
1 cup sugar
1 cup heavy whipping cream
1 tsp. vanilla extract
Directions:
1. Preheat oven to 350ºF. In a large bowl, cream butter and sugar until light and fluffy; beat in milk.
2. Combine the flour, baking powder and salt; gradually add to creamed mixture. Stir in cranberries.
3. Pour into a greased 9″ square or round baking pan. Bake for 35-40 minutes or until a toothpick inserted near the center comes out clean. Cool on a wire rack.
4. For the sauce, melt butter in a medium saucepan. Stir in the sugar and cream; bring to a boil, stirring often. Boil for 8-10 minutes or until slightly thickened. Remove from the heat; stir in vanilla. Serve warm with cake.