If you are looking for a simple weeknight meal that is as healthy as it is pretty look at, you have come to the right recipe. Tyler Florence of the Food Network always provides reliable recipes and this one is no different. You can save yourself a lot of time when it comes to any and all fish recipes by buying yourself (or ask for one for a unique gift idea) a special fish pin-bone remover tool. You can easily glide the fish bones right out by moving your fingers gently along the middle seam of your filet feeling for the bones and using the tool to carefully remove them without much effort at all. The skin gets so crispy but the salmon stays light, flaky and moist. It is a guaranteed hit in your household!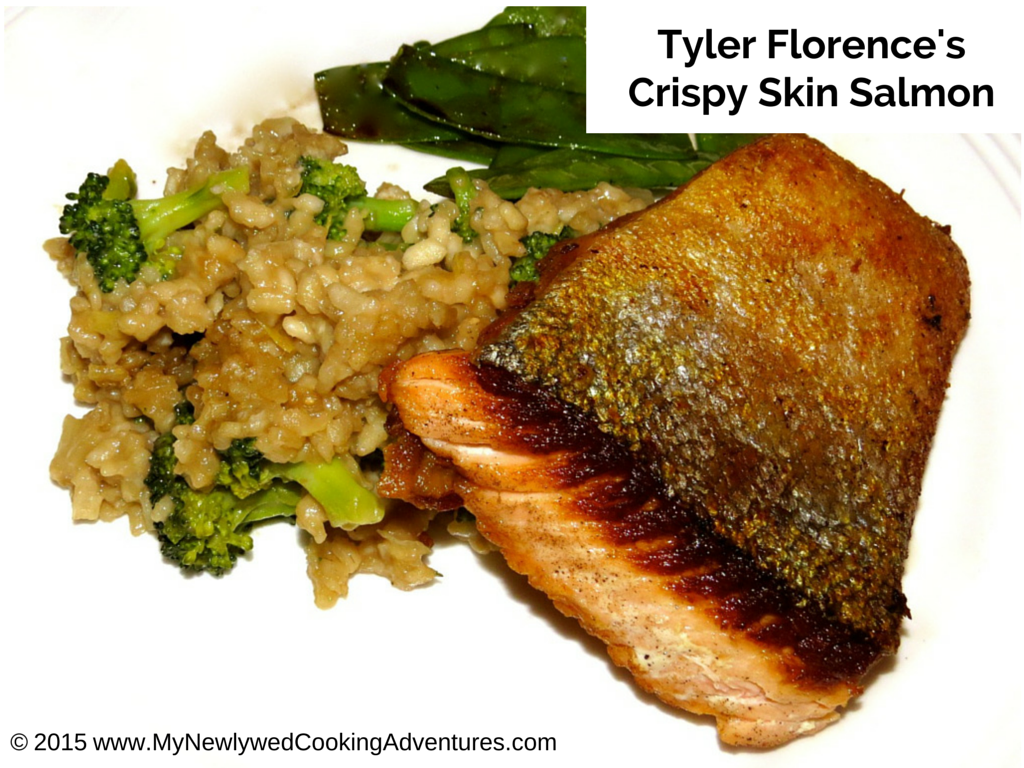 Salt and Pepper Crispy Skin Salmon
Recipe by: Tyler Florence "Tyler's Ultimate"
Yield: 2 servings
Total Time: 35 min
Prep: 10 min
Cook: 25 min
Ingredients
1 salmon fillet (about 1 pound), skin on, 1 1/2 to 2 inches thick
Kosher salt
Extra-virgin olive oil
Freshly ground black pepper
2 tablespoons unsalted butter, room temperature
Directions
1. Run your finger up and down the center of the salmon feeling for any pin bones. Remove any that you find with a needle-nosed pliers or tweezers. With a sharp knife cutting across the width of the salmon, divide it into 2 equal portions. Lightly salt the salmon and let sit a couple minutes; this will help you get crispy skin.
2. Heat about 1 1/2 tablespoons of olive oil in a large skillet over medium-high heat until the oil is almost smoking. Season the salmon with pepper, and rub about 1 tablespoon butter on the skin side of each fillet. Add the salmon to the pan, skin-side down. To get super crispy skin, cook the salmon almost to completion, about 6 minutes.
3. Flip the salmon and cook until flesh side is nicely seared, 1 to 2 minutes. Transfer the salmon to a platter and serve.