My earliest memories of eating rack of lamb are around the rectangular, shiny, wooden dining room table at my parents' home surrounded by my grandparents on Easter. I recall we only ate it on holidays and fancy occasions and always at the apropos fancy table reserved for when guests were visiting. Ever since moving into my own homes, I have never attempted the feat of such a large cut of meat by myself and only eat lamb when at a restaurant cooked by professionals. Until now…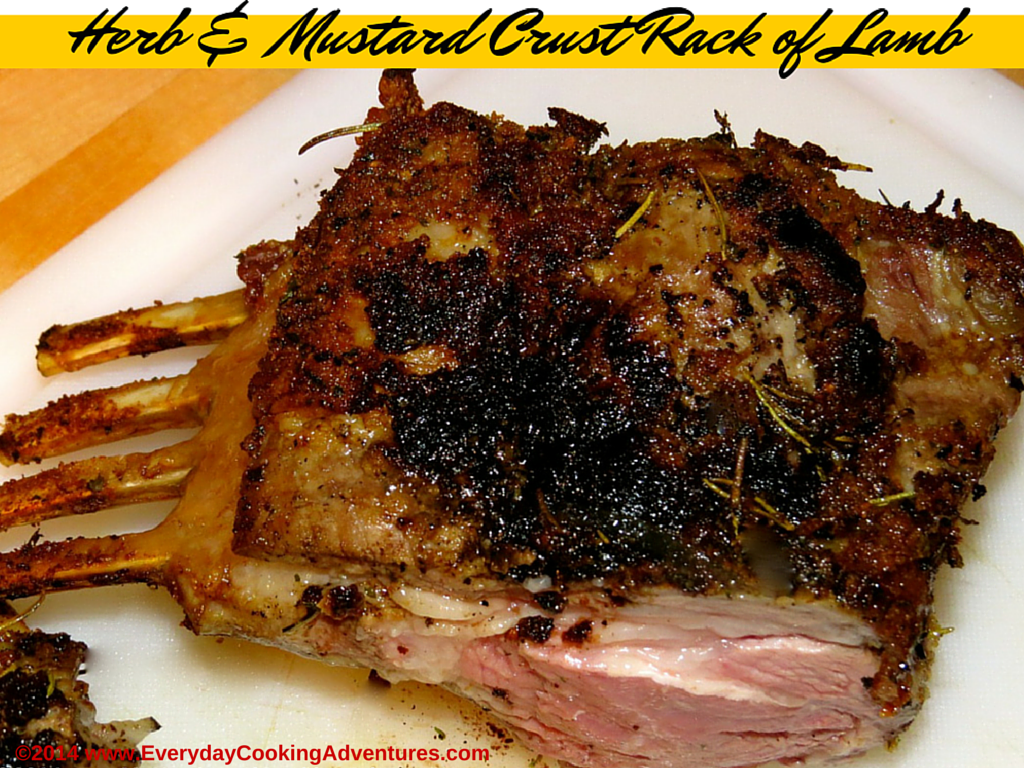 I have always found that Williams-Sonoma's recipes are the most reliably delicious, followable, and beautiful ones that I rarely have ever had a mishap with. Therefore, I knew it would be the go-to for my first attempt at rack of lamb on my own, without my mom's guidance. I found that the cooking time was more like 35 minutes however my lamb chops were very large and meaty, unlike the usual thinner variety. I made just one rack for us and propped it up against the side of a large roasting pan I normally use only for Thanksgiving turkey or a whole roast chicken. The recipe was easy to follow, thankfully, and we relied on a meat thermometer for when to take it out of the oven (130ºF). It was perfectly tender and flavorful but I only wished I'd remembered the essential mint jelly!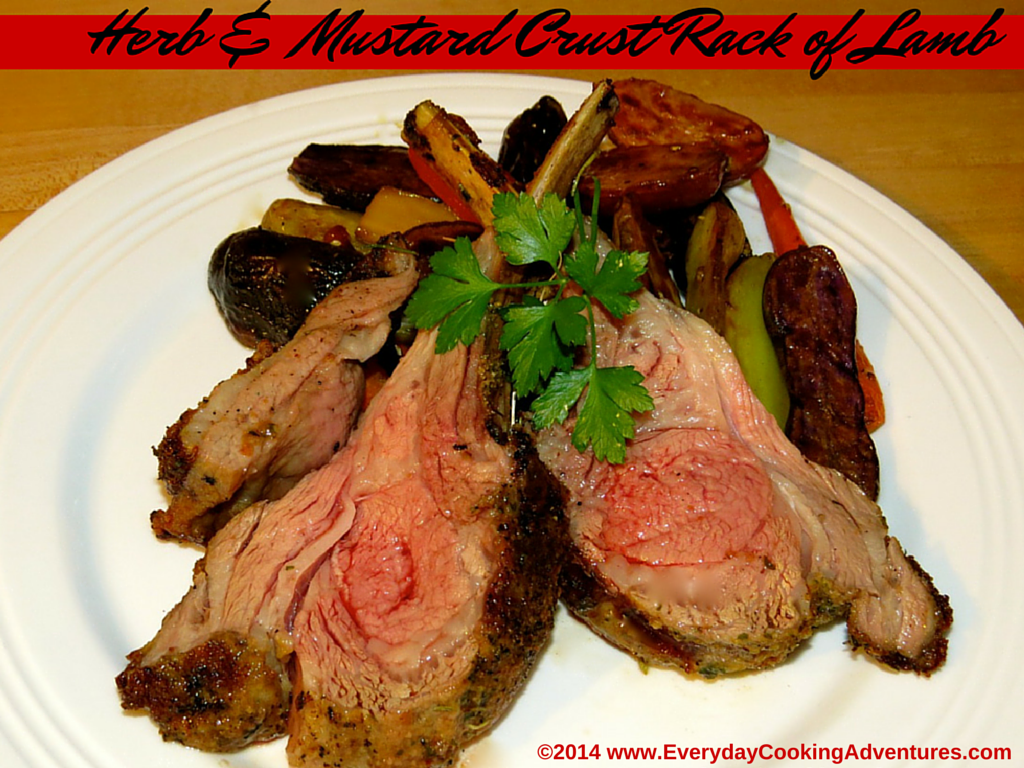 Rack of Lamb with Herb and Mustard Crust
Recipe By: William-Sonoma Kitchen
Serves: 8 people (use 1 rack and 1/2 the recipe for 4 people)
Ingredients:
2 racks of lamb, each with 8 ribs, Frenched (about
2 1/2 lb. total)
Kosher salt and freshly ground pepper, to taste
1 1/2 cups fresh bread crumbs
1/4 cup chopped fresh flat-leaf parsley
2 Tbs. chopped fresh mint
1 Tbs. chopped fresh rosemary
2 Tbs. Dijon mustard
2 Tbs. olive oil
Directions:
1. Season the racks of lamb with salt and pepper, pressing to stick. Let stand at room temperature for 1 hour. In a bowl, stir together the bread crumbs, parsley, mint, rosemary, salt and pepper.
2. Preheat an oven to 375°F. Brush the meaty side of each lamb rack with 1 Tbsp. mustard. Pack the bread crumb mixture onto the meaty side.
3. In a large fry pan over medium-high heat, warm the olive oil until just smoking. Add the lamb racks, bread-crumb side down, and brown on both sides, about 2 minutes per side.
4. Place the racks, bread-crumb side up, on a rack in a roasting pan. Transfer to the oven and roast until the crust is nicely browned and an instant-read thermometer inserted into the thickest part of the meat, away from the bone, registers 130°F for medium-rare, 25 to 30 minutes, or until done to your liking.
5. Transfer the lamb to a carving board, cover loosely with aluminum foil and let rest for 10-15 minutes. Carve the racks into double chops and serve immediately.