A slow, simmering pot of Italian bolognese sauce is a fragrant and delicious thing, but sometimes we just don't have time for  it. That's why I have worked over the past few years at finding a way to make the freshly prepared sauce into a quicker, weeknight version. While this recipe isn't going to win a contest against "Mama's" homemade variety you find in those quaint Italian eateries, it is packed with powerful, heart-healthy ingredients like tomato, onion and garlic and turns your basic pasta dish into a hearty and flavorful meal.
This sauce would also be great if used with lasagna. You can make it ahead and freeze it for a month to use as for layering in between pasta for lasagna or just for your basic spaghetti sauce throughout the month. You can also make it versatile by adding and subtracting the ground beef for ground veal, ground turkey, ground chicken, and/or ground pork. Give this a try and make it your own for your family's simple weeknight dinnertime.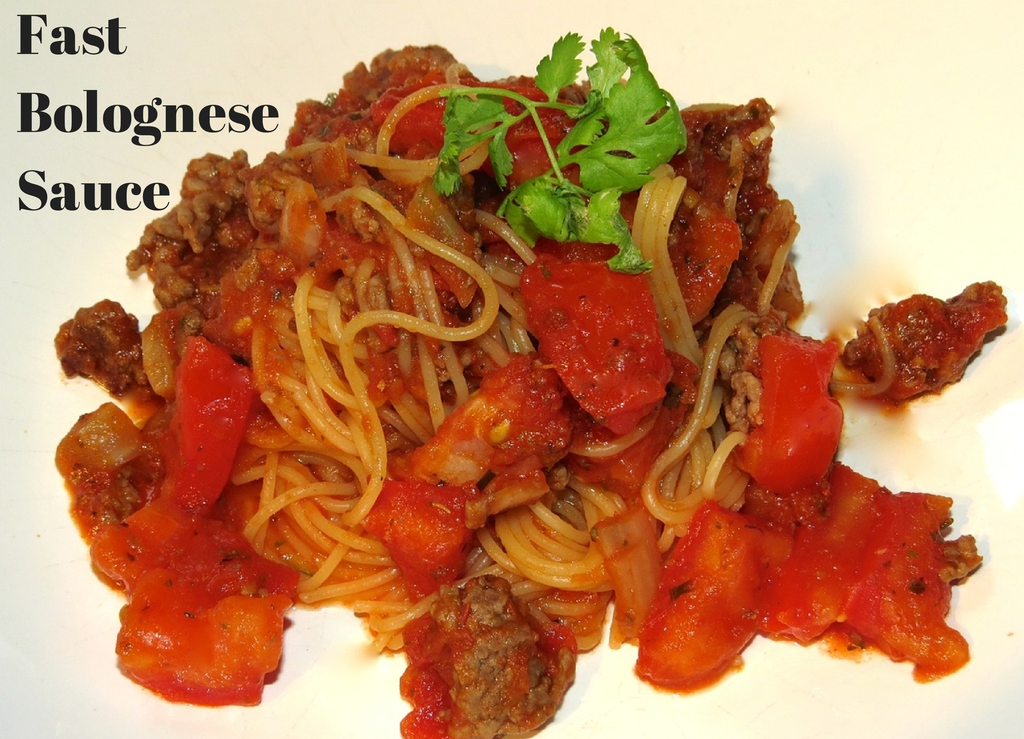 30-Minute Bolognese Sauce
Recipe By: Everyday Cooking Adventures, 2014
Serves: 2
Total Time: 30 minutes
Ingredients:
 1/2 lb. ground beef
1/2 yellow or white onion, diced
1 -2 fresh tomatoes, chopped (depending on size of tomatoes)
1 garlic clove, minced
1 Tbsp. red pepper flakes
1 tsp. oregano
Salt and fresh ground black pepper
1/4 cup red wine
1/3 cup beef stock
Dash of nutmeg
Spaghetti or pasta of choice
Olive oil for drizzling
Parsley fresh for garnish
Parmesan cheese as desired
Directions:
1. Heat a large skillet to medium-high heat and add ground beef. Break up with back of a wooden spoon while cooking 5 minutes.
2. Lower heat to medium and add the onion, tomato, and garlic. Stir to combine with the beef. Add the red pepper flakes, oregano, and a good pinch of salt and black pepper. Stir to combine and cook 2 minutes.
3. Add the red wine, stock and nutmeg and bring to a low boil. Lower to simmer and cook for 15 minutes.
4. Meanwhile, boil water for pasta and cook according to package directions. Drain and toss with the finished bolognese sauce. Garnish with a drizzle of olive oil, parsley and parmesan cheese as desired.