Tonight was my first attempt at cooking tofu. I like miso soup when it has those little tofu squares in it and pad thai with tofu, but other than that I've never had much exposure to it. I liked the sound of this recipe because it sounded like the tofu would be flavored by the red pepper and cornmeal and crisped up, and anything crispy is always tastier…like potatoes turned into fries! This recipe was everything I'd hoped for and more. The vegetables were basically flash-sauteed so they were crispy and fresh tasting.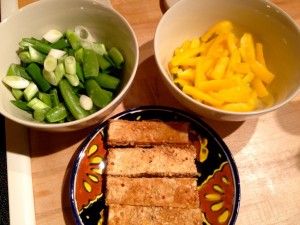 Chopped veggies and marinated tofu ©Everyday Cooking Adventures 2012
I halved the recipe and used half a 12oz package of extra-firm tofu. The tofu was very easy to prepare and wasn't all scary mushy like I'd feared. It was crispy on the outside but soft on the inside and packed a nice slightly spicy punch from the red pepper. I added a good handful of cashews when I was sauteeing the veggies, which added a good crunch.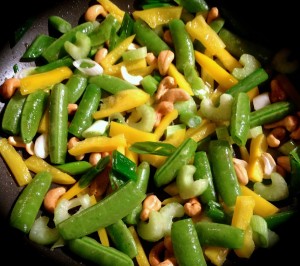 ©Everyday Cooking Adventures 2012
This recipe has made me a tofu believer-well maybe, I'll at least keep trying out recipes with the stuff and this one will stay in the recipe box as a fresh healthy alternative to meaty meals. Here's my crispy tofu with vegetables: +Better Homes and Gardens
Crispy Tofu & Vegetables ©Everyday Cooking Adventures 2012
Crispy Tofu and Vegetables
From:
Better Homes & Gardens Magazine
Makes: 2 servings
Prep 15 mins
Marinate 15 mins
Cook 9 mins
ingredients
1 cup fresh sugar snap peas (4 ounces)
6-8 ounces light, reduced-fat, or regular extra-firm tub-style tofu (fresh bean curd), drained
1 1/2 tablespoons reduced-sodium teriyaki sauce or soy sauce
1/8 cup yellow cornmeal
1/8 teaspoon ground red pepper
1 teaspoon toasted sesame oil
1/2 medium red sweet pepper, cut into thin strips
1/2 medium yellow sweet pepper, cut into thin strips
4 green onions, cut into 2-inch pieces
1 teaspoon cooking oil
1/2 tablespoon white or black sesame seed, toasted (optional)
directions
1. Remove strings and tips from pea pods; cut in half. Set pea pods aside. Cut tofu crosswise into four 1/2-inch-thick slices. Arrange slices in a single layer in a 1-quart rectangular baking dish. Pour 1 tablespoon of the teriyaki sauce over tofu; turn slices to coat. Let stand at room temperature for 15 minutes.
2. In a shallow dish combine cornmeal and ground red pepper. Drain tofu, discarding marinade. Carefully dip tofu slices in cornmeal mixture; press gently to coat both sides. Set tofu slices aside.
3. Pour 1/2 teaspoon of the sesame oil into a large nonstick skillet or wok. Preheat to medium-high heat. Stir-fry sweet pepper strips for 2 minutes. Add pea pods and green onions; stir-fry for 2 to 3 minutes more or until crisp-tender.
4. Remove skillet from heat; stir in the remaining 1/2 tablespoon teriyaki sauce. Transfer vegetable mixture to a serving platter; cover and keep warm. Wipe skillet clean.
5. In the same skillet heat the remaining 1/2 teaspoon sesame oil and the cooking oil over medium heat. Cook the coated tofu slices for 2-1/2 to 3 minutes on each side or until crisp and golden brown, using a spatula to turn carefully. Serve tofu slices over vegetable mixture. If desired, sprinkle with sesame seeds.