This post goes well with Monday's, 10 Ways with Chicken Breasts. Here's another one for you. Saffron is such an expensive spice that I am always nervous to use it. I want to ensure those tiny red strings don't get wasted by my own kitchen mishaps or on a dish not up to par. This recipe comes from Bon Appétit's Test Kitchen director, who learned this quick braise method from her host mom while studying in Spain. If it comes from Spain, chances are it's authentic and will be a good use for my precious saffron!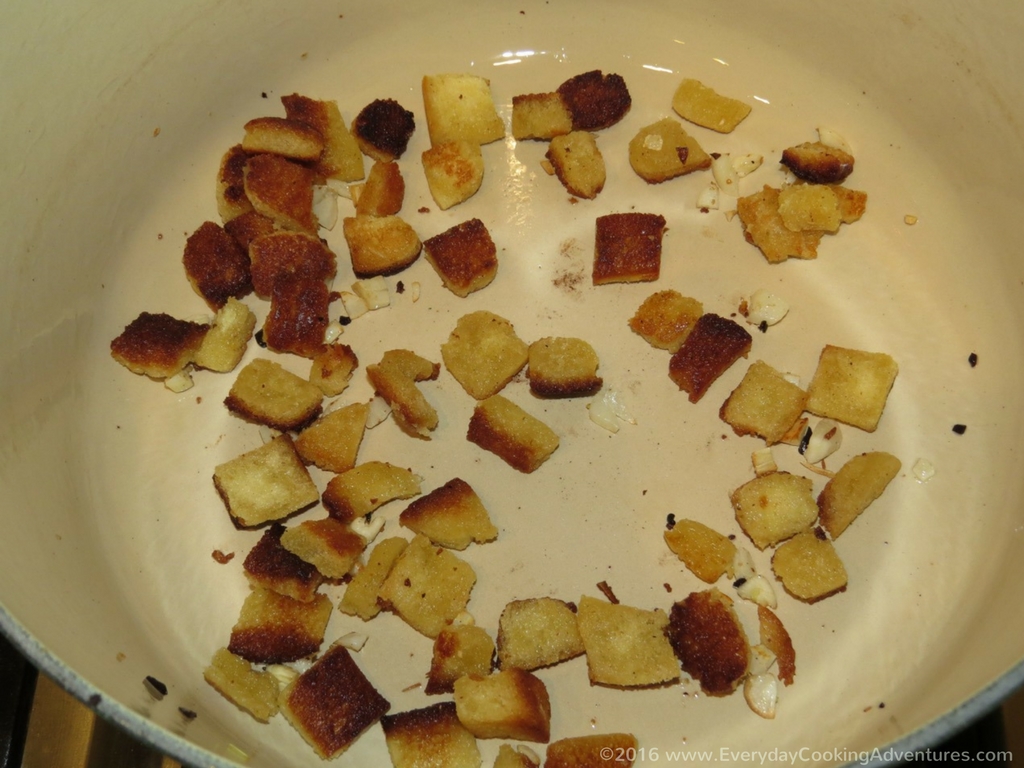 I did get a little confused while making the sauce so I actually tweaked the wording in steps 1 & 2 to make them easier for you to understand, and for me to make this recipe again. If you want your sauce to be thicker you can add a little more bread and ground almonds to the sauce in the blender, but I thought it came out just right. The crunchy, buttery almonds mixed with the slightly salty chicken paired quite nicely. The yellow color from the saffron, and scents of onion and garlic mixed in, made me remember eating in Barcelona and Madrid with my parents years ago. I hope you give it a try! Salud!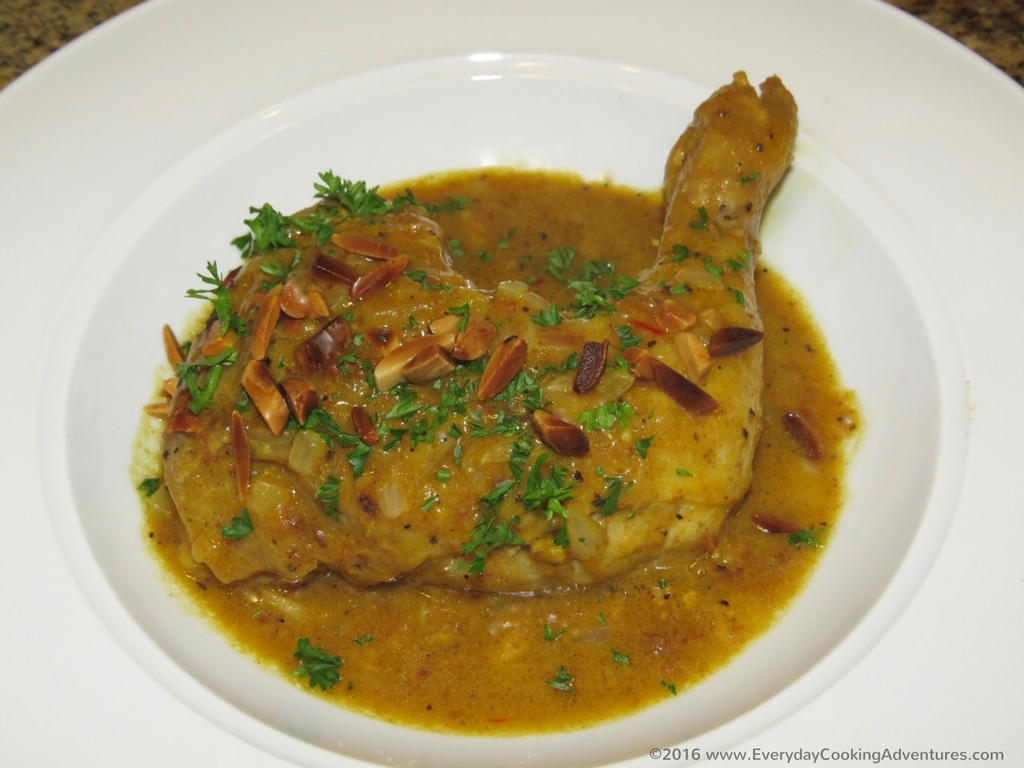 Chicken in Saffron, Garlic and Almond Sauce
Recipe from: Bon Appetit Magazine, October 2012
Serves: 2
Active Time: 30 minutes
Total Time: 50 minutes
Ingredients
3 Tbsp. olive oil, divided
1/4 cup (4 Tbsp.) slivered almonds
1 cup 1/2″ cubes crustless white bread
2 garlic cloves whole
3/4 cup low-sodium chicken broth
1/3 cup dry Sherry or white wine
1/4 tsp. freshly ground black pepper plus more for seasoning
1/3 tsp. saffron threads (optional)
Kosher salt
2 – 3 chicken legs (thigh and drumstick)
1/2 onion, minced
1/2 Tbsp. chopped flat-leaf parsley for garnish
Directions:
Heat 2 tablespoons olive oil in a large heavy pot over medium heat. Add almonds and stir until golden brown, about 2 minutes; transfer immediately to paper towels then place 3 tablespoons of the almonds in a large blender or food processor. Set aside remaining almonds for garnish.
Add bread cubes and garlic to same pot. Cook, stirring frequently, until bread is golden brown and crisp, 4-5 minutes. Using a slotted spoon, transfer to blender. Add to blender the broth, Sherry, ground black pepper, saffron if using, and a large pinch of salt; process until almost smooth. Set aside.
Heat remaining 1 tablespoon olive oil in same pot over medium-high heat. Season chicken with salt and pepper. Add to pot and cook, turning down heat if needed to prevent burning, until chicken is golden brown on all sides, about 12 minutes total (this step is just to brown the skin). Transfer chicken to a plate.
Add onion to pot; cook, stirring often, until onion is caramelized around edges, about 5 minutes. Add sauce and chicken back to pot, pushing down chicken to submerge or labeling sauce over the chicken thoroughly. Bring sauce to a simmer, cover, and reduce heat to low. Simmer until chicken is just cooked through, about 25 minutes. Season to taste with salt and pepper.
Divide chicken and sauce among bowls. Garnish each serving with reserved toasted almonds and chopped parsley.