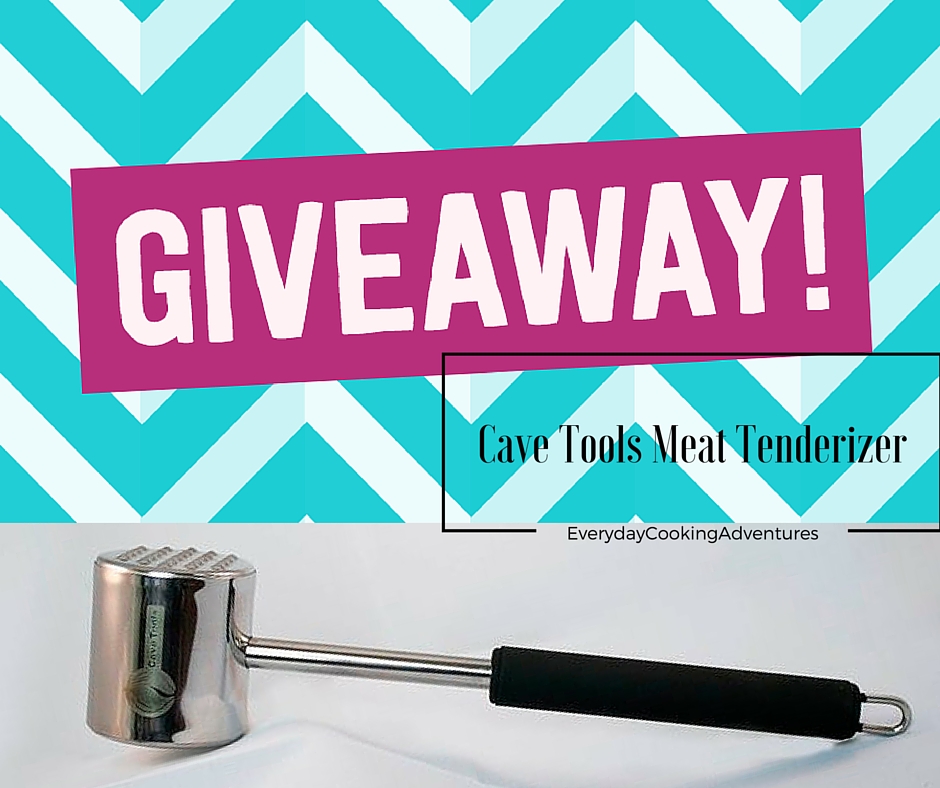 The Mediterranean diet is getting more popular as more scientific research proves it the be a way to live a longer, healthier life. Upping your vegetables, whole grains and fruits, along with some fish and chicken, and lowering your intake of beef and processed foods seems to be catching on in the U.S., even though it's been the way of life for European countries along the Mediterranean for a long time: Think Greece, Italy, and Spain. I've been moving my husband and I more and more into this way of eating and this recipe is a great keeper for dinner. Plus double the recipe for a dinner party!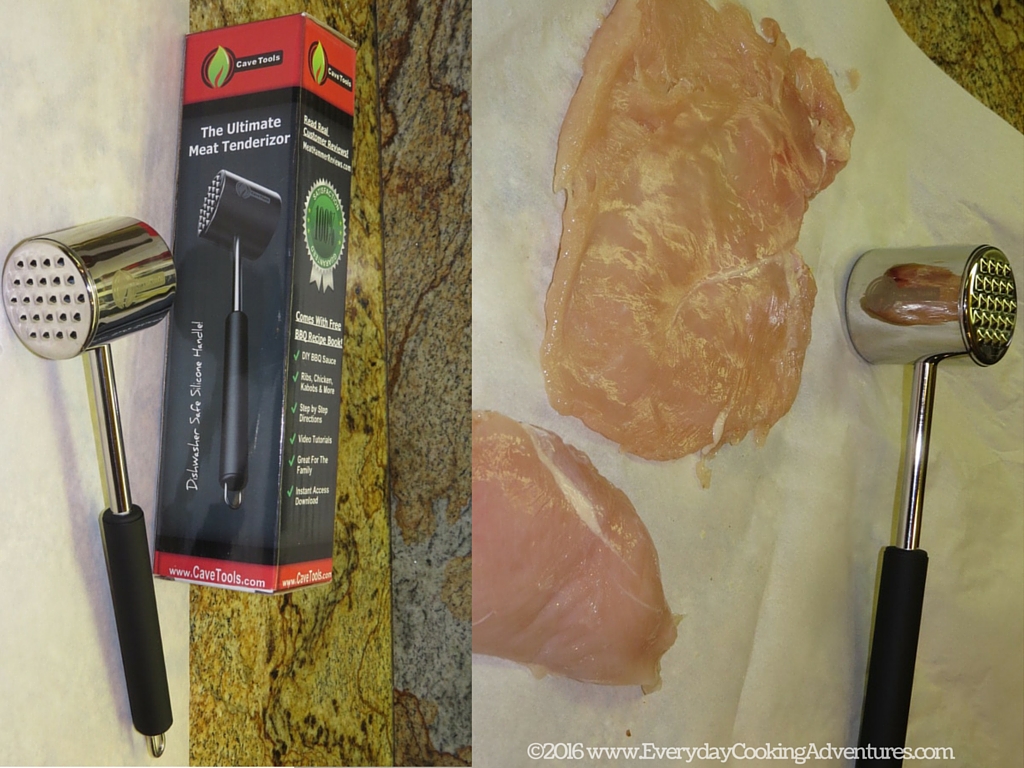 I used my CaveTools Meat Tenderizer, on the mallet side (SO HANDY!), to flatten the chicken so it could be easily rolled up with all the goodies inside. I used some toothpicks to keep the sides tight so as not to lose any cheesy or veggie yumminess! The CaveTools Tenderizer is especially awesome because before I only had one with a tenderizer on both ends, perfect for beef, but which left my chicken a bit mashed up. The Mallet side on this one is perfect for when you need to flatten the chicken out without damaging it.

It's also dishwasher safe and comes with a lifetime guarantee! You can get a 15% discount through Amazon.com using code: KRYLK4CT and you can enter my GIVEAWAY below and 1 lucky winner will win a free one!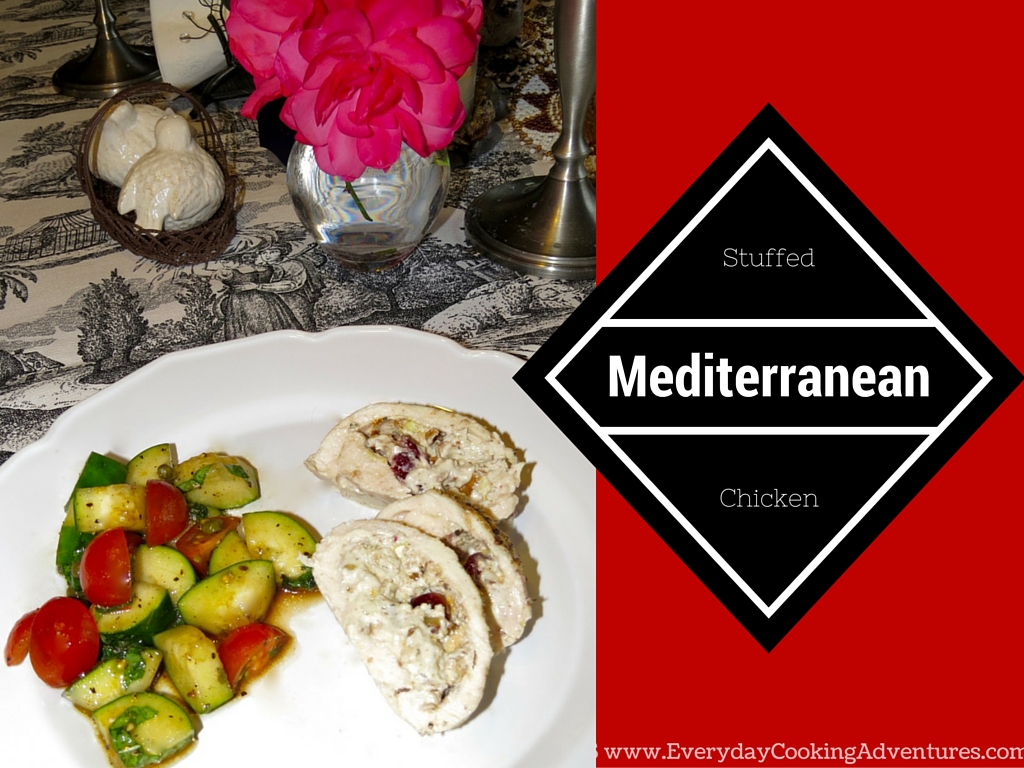 Enter to Win a CaveTools Meat Tenderizer and Mallet of your own!
Mediterranean Stuffed Chicken
Recipe from:
Oldways.com
and the California Walnut Commission
Ingredients:
1/4 cup California walnut pieces
1/3 cup feta cheese, crumbled
6 Kalamata olives, pitted and chopped
3 sun-dried tomatoes (in oil), diced
3 button mushrooms, stems removed and diced
1 Tbsp. lemon zest
1 Tbsp. lemon juice
1 Tbsp. oregano
½ tsp. red pepper flakes
2 chicken breasts (4 ounces each)
Parchment paper
½ cup or about 8-10 fresh basil leaves
Pinch of salt and pepper
1 tsp. extra-virgin olive oil
Directions:
Preheat the grill to 500°F. Or, if using an oven, preheat it to 400°F.
In a small bowl, combine the walnuts, feta, olives, sun-dried tomatoes, mushrooms, lemon zest, lemon juice, oregano, and red pepper flakes. Set aside.
Butterfly the chicken breasts by slicing them in half (lengthwise) but leaving them attached at one end. Place between two sheets of parchment paper or plastic wrap. Using your CaveTools Meat Tenderizer and Mallet, gently pound chicken to flattend with the mallet side. Place 4 to 5 basil leaves on each flattened breast followed by 1/2 of the walnut mixture. Spread evenly.
Begin rolling the chicken up from one end to the other to form a pinwheel shape. Brush with the olive oil and season lightly with salt and pepper. Secure each roll with butcher string or 3 to 4 skewers. Repeat with the remaining chicken breasts and filling.
If grilling, reduce the heat to medium-high and grill the chicken for 25 to 30 minutes until the internal temperature reaches 180 °F. If cooking in the oven, bake for 25 to 30 minutes.
Tip: Prepare the chicken one day ahead and keep refrigerated.