Over 300 recipes, a year and 3 months of blogging about my cooking, and I have only just made the recipe that I can declare my very favorite. I have a dedicated love to bread, so much so that I have joked  that it would be the one food item I'd bring if abandoned on an island forever. Another one of my favorite food-related activities is going to a salad bar. I do believe I've mentioned that before on the blog even. Therefore, I should have known that of course my favorite recipe discovery would be…Homemade Croutons!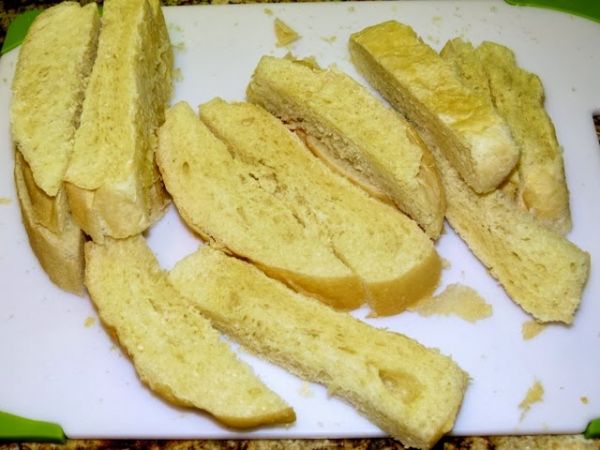 Slicing the baguette ©EverydayCookingAdventures 2014
I cannot insist enough that you NEED to make these as soon as possible. Absolutely anyone can make croutons, as long as you are old enough to reach the knobs to turn on the oven. You can vary this recipe with different dry herbs, drizzle them with different flavored olive oils, and use whatever bread you have at home. I read some recipes that call for trimming the crust off the old bread but I didn't even do this…hello simplicity!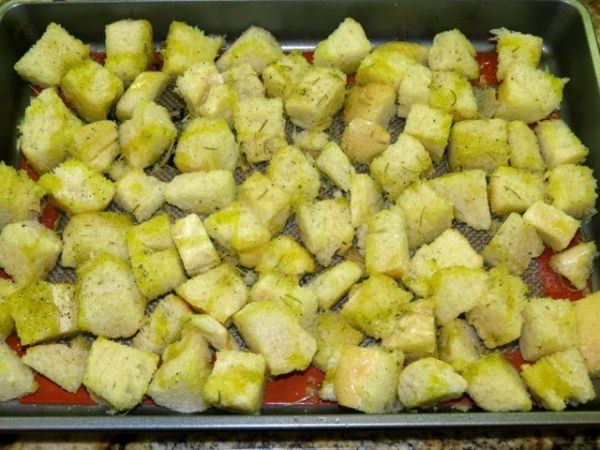 Ready for the oven ©EverydayCookingAdventures 2014
I used half a loaf of french bread that was at least a week old, wrapped it in a wet paper towel, and microwaved it for 20 seconds to soften it up a bit before slicing it up into cubes. If you have just slightly old bread like a day or two you can skip that step. I snacked on the croutons right after they came out of the oven and fell madly in love immediately. I stored them in a re-sealable bag and can't wait to eat a giant salad with them tomorrow! Here are my croutons: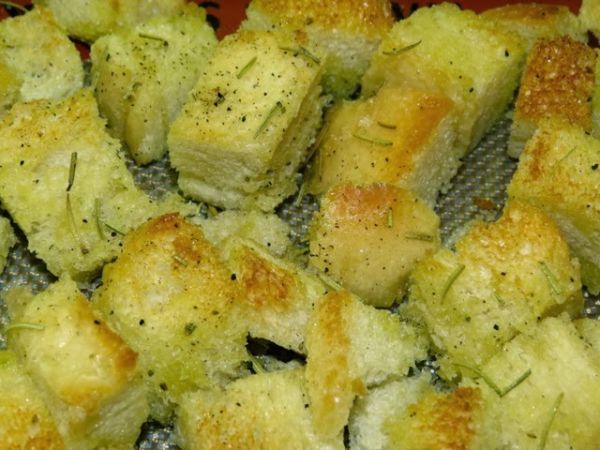 Homemade Herb Croutons ©EverydayCookingAdventures 2014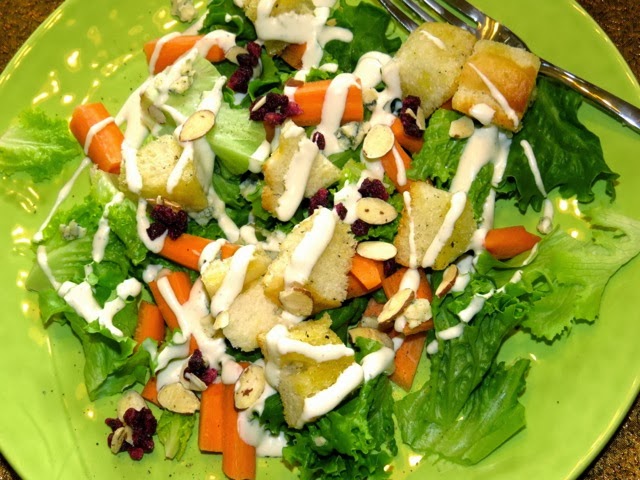 ©EverydayCookingAdventures 2014
Homemade Croutons
Recipe by: Everyday Cooking Adventures, 2014
Ingredients:
Cooking spray, optional
Day old bread, sourdough or french bread works best
4 Tbsp. good quality extra-virgin olive oil NOTE: (depends on amount of bread…you don't want the bread cubes to soak in the olive oil, just be lightly drizzled in it)
1 Tbsp. kosher salt
1 tsp. fresh ground black pepper
2 Tbsp. dry rosemary leaves
1 Tsp. garlic powder
Directions:
1. Preheat oven broiler. Place nonstick foil, a silpat, or spray cooking spray on a jelly roll pan/baking sheet.
2. In a medium bowl, combine the olive oil, salt, pepper, rosemary, and garlic powder and lightly stir to combine.
3. Slice old bread into 1″ cubes. If bread is very hard already, wrap in wet paper towel, and microwave for 20 seconds to soften the bread before slicing.
4. Add bread cubes to bowl and toss to combine thoroughly. Pour bread cubes onto baking pan in a single layer and place on middle rack of oven under broiler. Broil for 4 minutes until nicely browned, watching with the oven light on to ensure bread doesn't burn/blacken.
5. Remove from oven and let cool on a baking rack for 5 minutes. Add to your meal right away or store in a resealable container or bag for up to 5 days. Pop back in the oven under the broiler for a couple minutes to re-crisp up if desired.