The simplicity of a one-pot meal is always enjoyed in this home. This recipe interprets the one-pot meal in a new way by making your whole dinner in an individual parchment paper "bag". The pasta, the fish and the veggies are all in one place making clean-up so easy. Who wouldn't love that?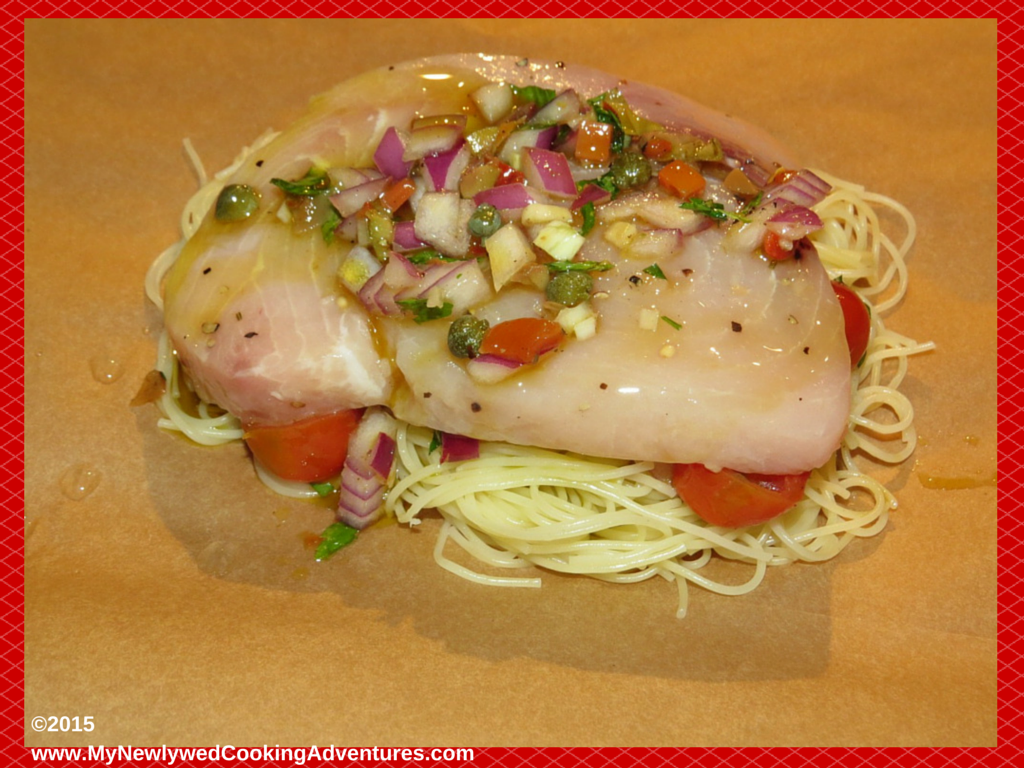 I used some olive and roasted red pepper jarred spread in place of the whole olives and bell peppers. This added nice moisture to the fish while baking and extra flavor. Also, to make things even easier, I skipped the whole double-triple paper folds of the parchment paper and simply folded it like a tight envelope, flipped it over so the seam was on the bottom of the baking sheet. This worked just fine and none of the juices seeped out. The final result was some perfectly cooked fish full of Mediterranean flavors and herbs and the simplest clean-up ever!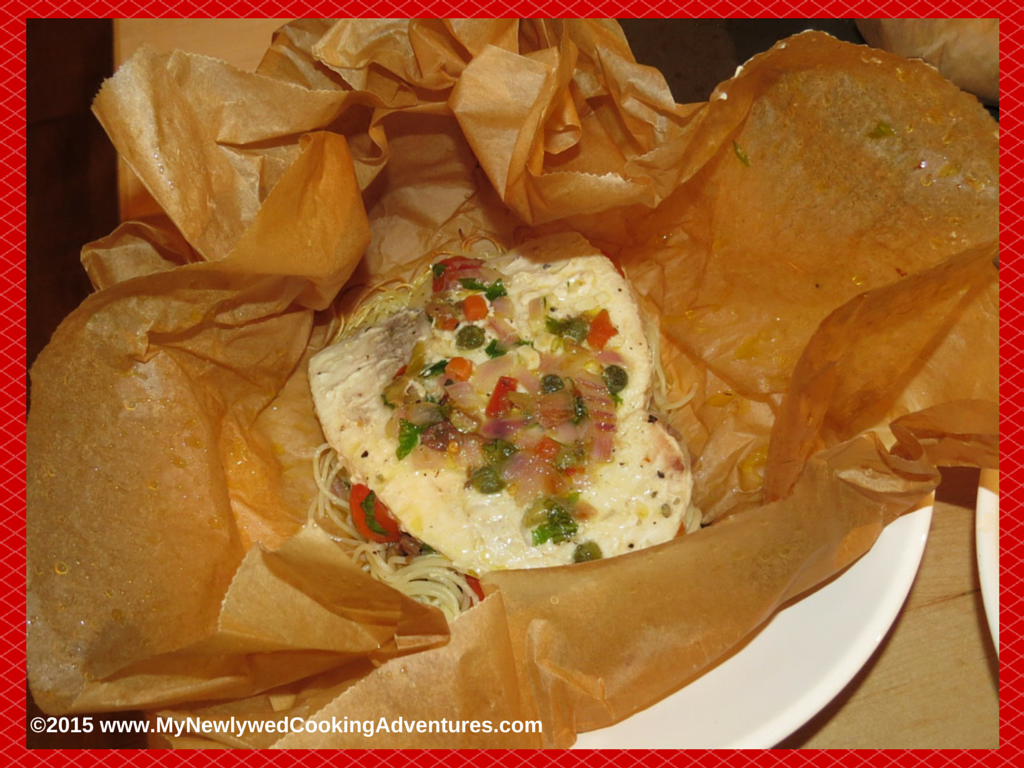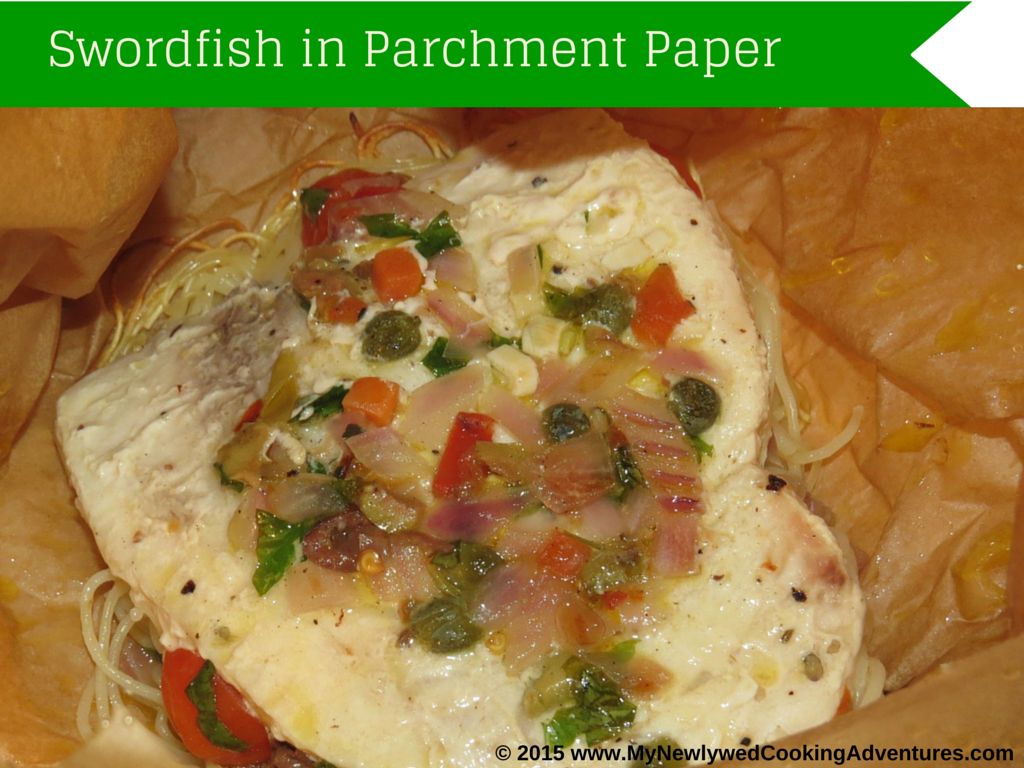 "Lunchbag" Swordfish with Mediterranean Tomato Sauce and Linguini
Recipe by: Michael Chiarello
Total Time: 1 hr 55 min
Prep Time: 30 minutes
Inactive Time : 1 hour
Cook Time: 25 minutes
Yield: 2 servings
Ingredients
1 1/2 cups vine-ripened plum (Roma) tomatoes, cored and cut into thin wedges
Salt and freshly ground black pepper
1/2 Tbsp. finely chopped fresh oregano leaves, or 1/2 tsp. dried oregano
1/2 Tbsp. finely chopped fresh flat-leaf parsley
1/2 Tbsp. minced garlic
1/2 small minced red onion
1 Tbsp. rinsed, drained, and roughly chopped capers
1/4 cup roasted red or yellow bell peppers, coarsely chopped
8 pitted and sliced Greek olives (such as kalamata or Gaeta olives)
2 Tbsp. fresh lemon juice
2 Tbsp. pepper olive oil or 1/2 tsp. dried chili flakes
5 Tbsp. extra-virgin olive oil
1/4 pound dried linguini
2 brown paper lunch bags and 4 large sheets parchment paper or waxed paper (see note below)
2 (6-ounce) swordfish steaks
Directions
1. Put tomatoes in a large bowl and season with salt and pepper, to taste. Add oregano, parsley, garlic, onion, capers, peppers, olives, lemon juice, pepper oil, and 3 tablespoons of the extra-virgin olive oil. Stir gently just to mix and set aside at least 1 hour. Adjust seasonings, if desired. Mixture will become more liquid and sauce-like over time.
2. Preheat oven to 450ºF. Bring a large pot of salted water to a boil and cook linguini until al dente. Drain and toss with remaining 2 tablespoons extra-virgin olive oil. Reserve.
3. To cook the fish: (See Chef's Note below if using waxed paper.) Place a small square of parchment or waxed paper at the bottom of each paper bag. Place small pile of linguini in each of the bags. Top with a spoonful of tomato sauce, making sure to moisten the linguini with the juices. Lay a piece of fish on top and arrange with another spoonful of sauce. Moisten again with juices from the sauce and season with salt and pepper.
4. Fold over the tops of the bags, place them on a baking sheet, and bake for 25 minutes. To serve, transfer the bags to 2 dinner plates cut open the package to enjoy the aromas.
*Chef's Note: To make waxed or parchment paper "bags": Fold 4 large sheets of paper in half. With the fold as the spine, cut a large semicircle (about an 8-inch radius) with one end more pointed than the other (opened out, the shape resembles a heart). Open the circles. Layers the ingredients in the center of the paper as instructed above. Leave a 1-inch border of paper clear. Close the parchment over the fish. Starting at the flatter end of the semicircle, firmly fold the edge inwards. Fold entire edge into a series of tight, flat, overlapping pleats to enclose the fish. Fold the last pleat several times and tuck it under the bag.