It is the start of a new week and that means Meatless Monday! This post is part of a Healthy Recipe Linkup so look at the end for even more fantastically delicious AND healthy recipes. I decided to make this zucchini salad and to make it an entree, combined it with the tofu from Sunset Magazine's Sesame Tofu recipe (click the link for that recipe). I wasn't sure if this Italian-inspired recipe would mix with the Asian-inspired sesame tofu but I decided to take a culinary risk.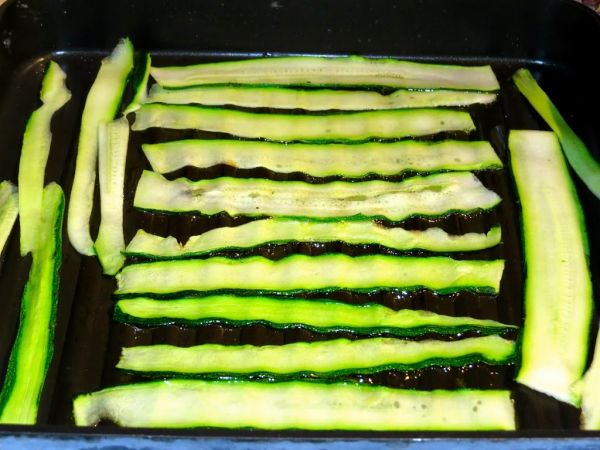 Grilling the Zucchini Ribbons ©Everyday Cooking Adventures 2014
The zucchini started to get crispy in the grill pan so I only let them cook for a few minutes. The slightly browned zucchini was fabulous as it added a little crispy element to the salad. I made the sesame tofu and let it cool down just 5 minutes before throwing the whole salad together.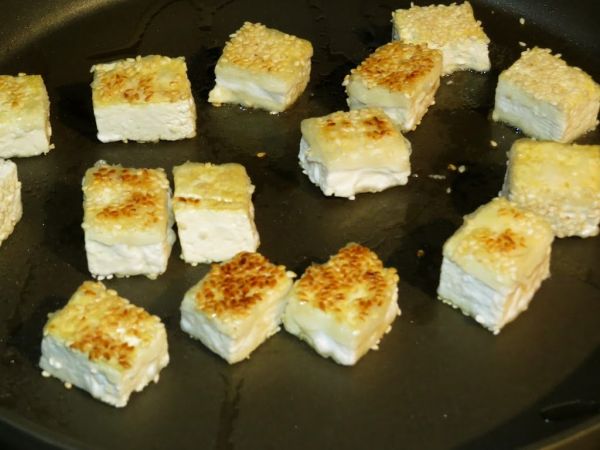 Sauteeing the tofu ©Everyday Cooking Adventures 2014
So while the tofu was still a little warm, it was perfectly delicious. I decided not to use this recipe's dressing and instead used Brianna's Mandarin Ginger salad dressing which was fantastic! I also used lightly toasted walnut pieces although next time that is the only thing I'd change…I would use peanuts or cashews instead. It was altogether a really tasty combination and made healthy also delicious! Here's my Zucchini/Tofu Salad: +Meatless Monday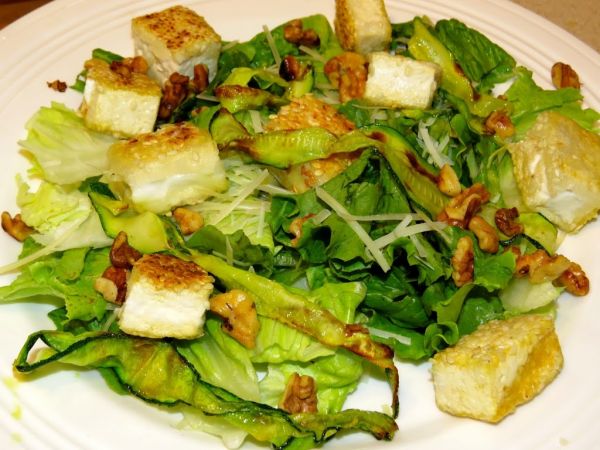 Zucchini Ribbon Salad with Sesame Tofu ©Everyday Cooking Adventures 2014
Zucchini Ribbon Salad
Ingredients:
1 zucchini
Olive oil
Red wine vinegar
1 tsp. Dijon mustard
1 garlic clove, crushed
Salt & black pepper
Dash of oregano
Arugula or lettuce of your choice
Feta or Parmesan cheese
Cashews or peanut, toasted: Optional
Directions:
1. Start by cutting off the ends of your zucchini then use your vegetable peeler to cut thin strips, stopping and turning when you see the seeds. The unused portion can easily be diced up and used for future use.
2. Cook your strips of zucchini either in a stovetop grill or saute pan coated with a tiny bit of olive oil, they only take a couple of minutes. Make sure they cool completely before adding them to your salad.
3. Mix the vinaigrette of 3 parts olive oil to 1 part red wine vinegar. Add a touch of Dijon mustard, crushed garlic clove, salt, black pepper, and oregano.
4. Using arugula or the lettuce of your choice for your salad base, toss it in the vinaigrette. Lay your zucchini strips on top, toss in some feta or shaved Parmesan and sprinkle with toasted nuts.