This recipe was born of another great buy at Eataly New York and some Farmer's Market meat and vegetables. I brought the orecchiette or "small ears" pasta home from my recent visit to Mario Batali's Eataly Italian market. And I knew right away that I wanted to make this recipe because it is one of my favorite things to order at Italian restaurants.
I was able to get the spinach from Fry Family Farms and the all-natural, antibiotic-free, humanely raised pork sausage from Circle Star Ranch, both at the Grants Pass Grower's Market. The result was a beautiful and well-rounded pasta main course that was absolutely delicious! Here's my pasta: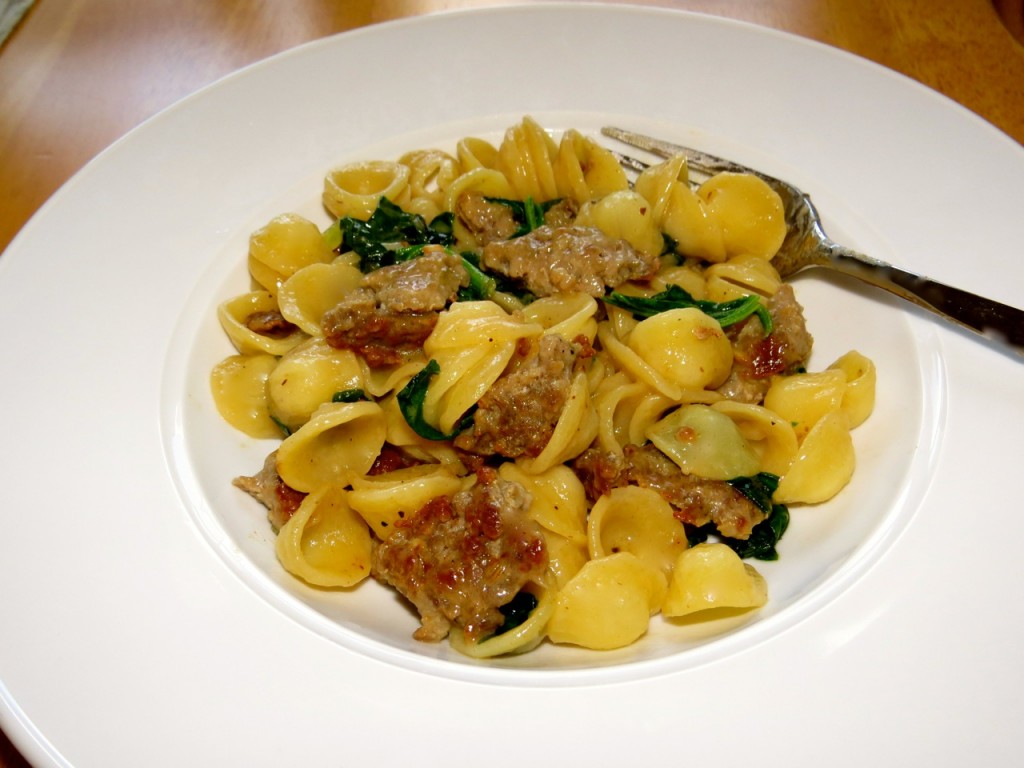 Sausage and Spinach Orecchiette
Recipe by: Everyday Cooking Adventures, 2014
Serves: 2
Ingredients:
Orecchiette pasta, about 1/2 pound
Kosher salt
2 Italian sausages, casing removed by running a knife down from end to end and peeling them off
1/2 Tbsp. extra virgin olive oil
1/2 Tbsp. fennel seeds
2-3 large handfuls of spinach, rinsed thoroughly
1 Tbsp. unsalted butter
Good-quality olive oil
Freshly ground black pepper
Optional: Shredded Parmesan or Parmigiano-Reggiano cheese
Directions:
1. In a large pot of water, add salt and bring to a boil. Add the pasta and let cook according to package directions.
2. Meanwhile, in a medium sauté pan add the sausage and break up with the back of a wooden spoon so it cooks evenly. Cook over medium-high heat until cooked through and no pink remains about 8-10 minutes. You will want it to resemble large crumbles when done cooking.
3. In a separate medium sauté pan, add the olive oil and warm over medium heat. Add the fennel seeds and reduce heat to medium-low. Add the butter until melted. Add the spinach and toss a couple times then remove from heat. You don't want to cook the spinach or it will get soggy. Just let it warm in the pan. Drain the pasta and add the sausage and spinach and all the butter and olive oil sauce. If it looks dry once tossed you can drizzle with a little extra good-quality olive oil and then top with freshly ground black pepper and parmesan cheese as desired.