Erin, this cake is for you! My friend since high school is a few weeks from having a baby and has been dreaming about this cake she keeps hearing about called the Hummingbird Cake. She asked me to give it a try first and see if it was all it's cracked up to be. Seeing as how I'm not a big banana fan, this is a true act of friendship, but one that my husband I'm sure will appreciate when he gets to eat it!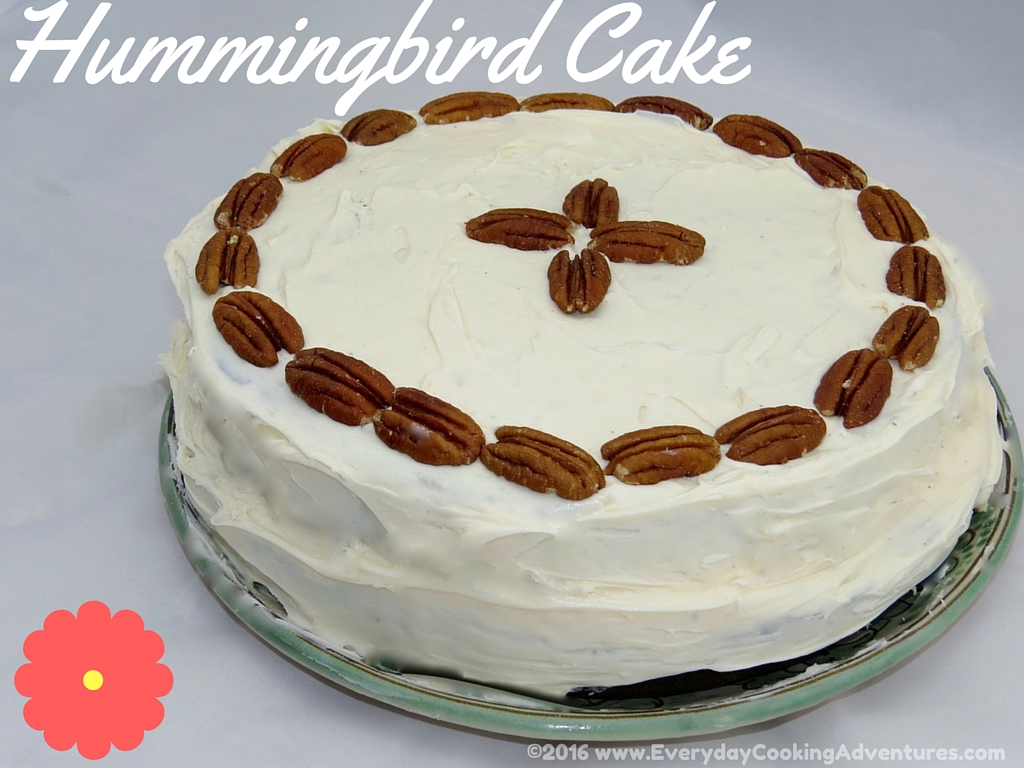 The recipe historically comes from Jamaica, which becomes obvious when you look at the list of ingredients from sugar to pineapple and bananas…it's a tropical cake! It came to the United States in the 1960s as a recipe card insert sent to the government to encourage tourism. First published officially in Southern Living Magazine in 1978 thanks to Mrs. L.H. Wiggins of Greensboro, North Carolina, this became one of their most requested and reprinted recipes.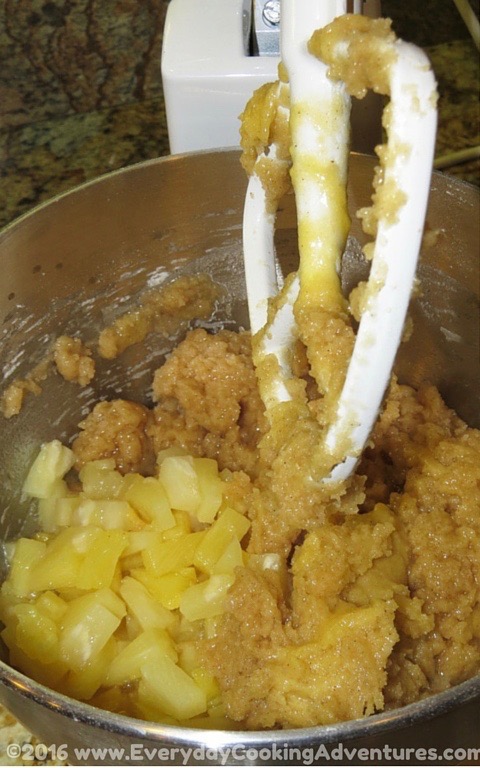 If you're wondering where the name came from, apparently in Jamaica it was called the "Doctor bird cake", a nickname for a Jamaican variety of hummingbird because it was sweet enough to attract hummingbirds (who eat only nectar). And I can attest to the sweetness! Actually, it most resembled the look of carrot cake but tasted like banana bread! It was seriously delicious. I only made a two-layer cake because my pans are taller than normal ones but it was a success. The sweet pineapples, crunchy pecans and smoothness of the bananas in the batter and creamy cheese frosting were a great combination.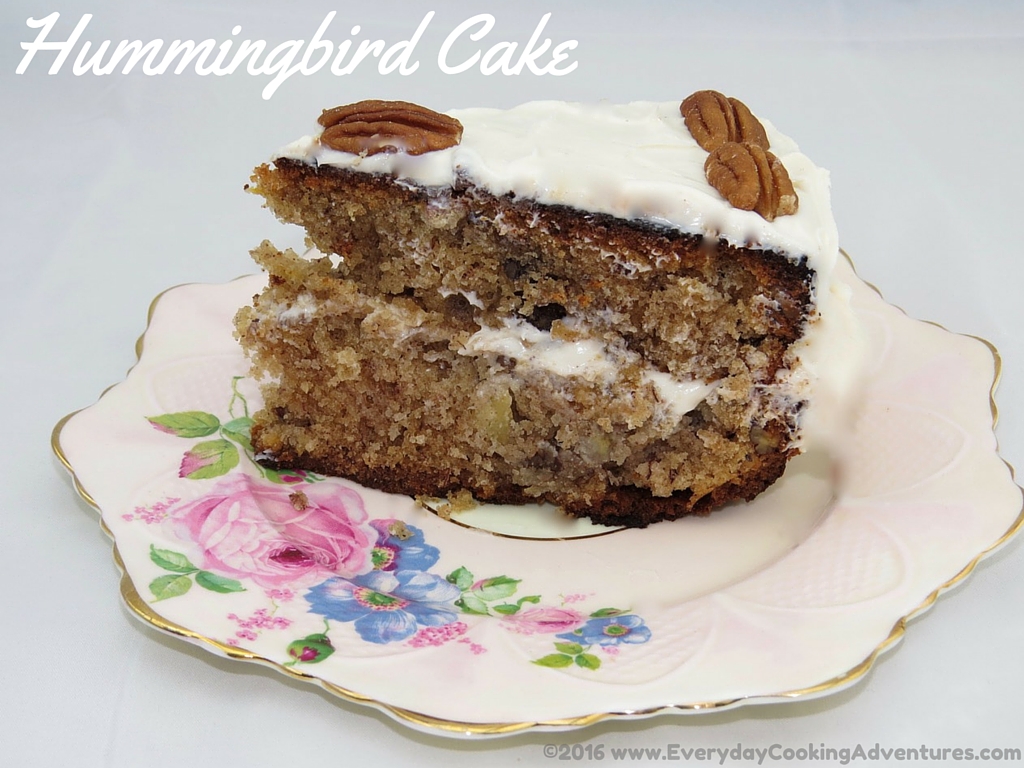 Erin, I HIGHLY recommend it! If it lasted more than a day or so due to all the sugar I'd have shipped it to you but I think you'll just have to beg someone closer by to make you one while you put your feet up!

Hummingbird Cake
Recipe from: Southern Living Magazine, February 1978 (and reprinted many times since)
Yield: 12 servings (9″ three-layer cake)
Ingredients:
Cake:
3 cups all-purpose flour
2 cups sugar
1 tsp. salt
1 tsp. baking soda
1 tsp. ground cinnamon
3 large eggs, beaten
1 1/2 cups vegetable oil
1 1/2 tsp. vanilla extract
8-oz. can crushed pineapple, undrained
2 cups chopped bananas
1 cup chopped pecans
Frosting:
2 (8-ounce) packages cream cheese, softened
1 cup butter or margarine, softened
2 (16-ounce) package powdered sugar, sifted
2 teaspoon vanilla extract
1/2 cup chopped pecans
Directions:
1. Preheat oven to 350°F. Whisk together flour and next 4 ingredients in a large bowl; add eggs and oil, stirring just until dry ingredients are moistened. Stir in vanilla, pineapple, bananas, and chopped toasted pecans. Spoon batter into 3 well-greased (with shortening) and floured 9-inch round cake pans.
2. Bake for 25-30 minutes or until a wooden pick inserted in center comes our clean. Cool cake layers in pans on wire racks 10 minutes; remove from pans to wire racks, and cool completely (about 1 hour).
3. Meanwhile, make the frosting. Beat cream cheese and butter at medium-low speed with an electric mixer until smooth. Gradually add sugar, beating at low speed until blended. Stir in vanilla. Increase speed to medium-high, and beat 1 to 2 minutes or until fluffy.
4. Place 1 cake layer on a serving platter. Spread 1 cup frosting over cake layer. Top with second layer, and spread 1 cup frosting over cake layer. Top with third cake layer, and spread top and sides of cake with remaining frosting. Arrange toasted pecan halves in a circular pattern over top of cake.